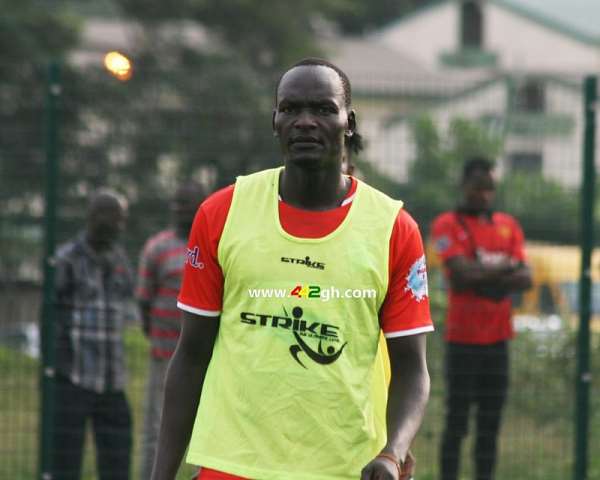 George Abege, a former Asante Kotoko striker has unequivocally said the Ghana Premier League giants is a not a big club as they claim to be.
The Ugandan international joined the Porcupine Warriors Abege in 2019 from Kenyan side Kairiobangi Sharks on a two-year deal.
However, he was shown the exit after failing to live up to expectation.
Following his exit from the club, the lanky striker who scored just a goal for the club claims the club is not big as other African clubs.
"Not really Kotoko is a big club, there's some loopholes in Kotoko but from outside if you look at it you can admire a lot but once you go deep inside the club, you will find out that there's a lot of loopholes," Abege told Kumasi-based radio station Wontumi FM.
"Why am I saying this, because they need to invest a lot in youth football right now, if you look at their U20, they're only few people, U17 never existed when I was there and they don't give enough time to for those youth to have the courage to carry on and believe that after one, two, three seasons I will be able to deliver in Kotoko,"
"Football is not spoken, football is played on the pitch and not at the office nor the roadside so whatever you do on the pitch will determine whether what you're doing was right from outside or not because what they display on the pitch shows that Kotoko is not big enough.
He, however, admitted that the facilities at the club are good but added the training pitch is not up to expectation.
"But in terms of facilities I think it's good, they have a bus and somehow organised club, they've got training pitch but the training pitch lacks a lot so there's a lot of things this team need to do to be called a big team because I was there and saw it so for it to be at pal with the so-called big teams in Africa, there are a lot to be done on the ground before they come on the pitch.
"I always wish Asante Kotoko the best but I also wish they could do something about that because it's not good for a club to always boost itself with their past history than to look at the future," he added.
Abege is currently unattached after his contract with Asante Kotoko was terminated after the club's last campaign in the CAF Inter-club competition.