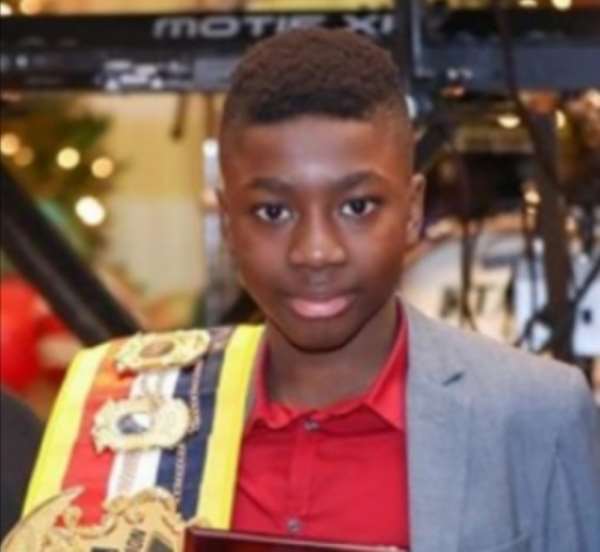 US-based Ghanaian juvenile boxer, Joseph Awinongya Jnr, has made a commitment to financially support Paulina Anokye to undergo surgery to remove a spinal tumour.
Joseph saw the deteriorating condition of Paulina Anokye on YouTube on a local online magazine show dubbed "Common Sense Family" (CSF) hosted by Avram Ben Moshe. He was touched by the plight of Paulina and discussed with his dad Joseph Awinongya Snr how he can reach out to support Paulina.
"I showed the video to my dad and he asked me to choose between getting a Play Station 5 which I so much desire to have and supporting Paulina with the funds," Awinongya Jnr said.
"I chose to help Paulina and forget about the Play Station because her condition gradually is killing her because of money" he added.
Paulina Anokye who is a native of Kwadaso a suburb of Kumasi in the Ashanti region of Ghana was diagnosed with spinal tumor at age fourteen when she started experiencing immobility in her left fingers.
Due to lack of finance to correct the defect, she resorted to herbal treatment which further deteriorated her condition affecting her right arm and both legs rendering her paralysed.
He has committed to supporting Paulina by paying for her medical assistance fees and an undisclosed amount for her upkeep for four months after her surgery. Paulina be will admitted at the Okomfo Anokye Teaching hospital where she has been booked for surgery on 22nd of July 2020.
The 13-year-old is currently rated number one and two in the 90lbs and 95lbs divisions in America has won almost all competition he has participated.
He has shown a superb exhibition of boxing artistry, a rare display of boxing IQ, academic excellence and has become the toast of many in Ghana and Chicago where he lives with his family.
Awinongya Jnr. also known as Jojo has won many awards since he ventured into the sport when he was five years.
He is a three-time Silver Gloves National Champ, 1x USA National Champion, 2x Jr Olympic National Champion, 1x Western Elite Qualifier National Champion, 2x St Louis National Champion, 1x King of the Jungle National Champion, 2 x Wisconsin National Champion, and Power Gloves National Champion
His sterling performance in and off the ring in his young career won him the Gold Star Award for Community Service by the black community in America (National Hook-UP of Black Women Inc) for being an outstanding role model in November 2019.
Early this year he was admitted to The Better Chance Program, a prestigious college preparatory school in New York for excelling young talents.