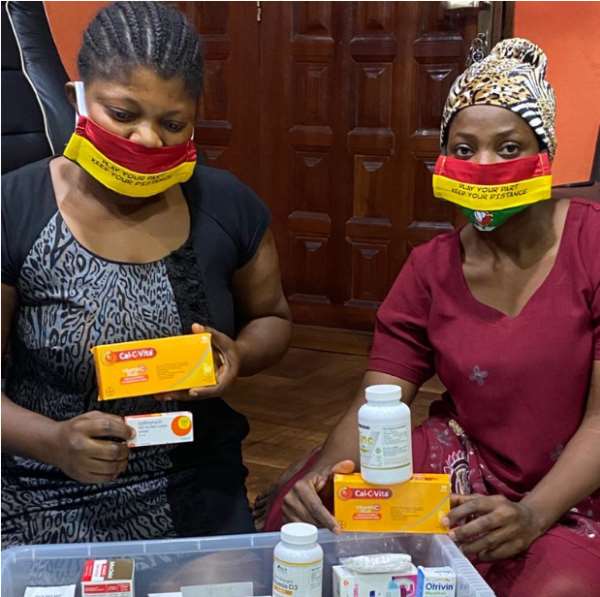 The Ghana Rugby Ladies – a body under Ghana Rugby Football Union have received health items from Africa Rugby and other Sponsors to help the fight against the deadly Coronavirus.
They have received Coronavirus relief medicines like vitamins, antibiotics, and other drugs from Africa Rugby, sponsors, and the Board Chairman and President of Ghana Rugby, Mr. Hebert Mensah to help the fight against the devastating disease.
The donation comes after the Ghana Rugby Ladies led by Board member, Rafatu Inusah donated masks, shields and other essential vitamins to polling centres at the Korle-Klottey Constituency in the Greater Accra a few days ago.
Receiving the items on behalf of the Ghana Rugby Ladies were Madam Rafatu Inusah who happens to be Board Member of Ghana Rugby Football Union and skipper of Lions Rugby Club, Anita Atieku.
Madam Rafatu Inusah expressed her profound gratitude to the donors for their kind gesture and stated that the donations will be used for the right purpose.
She said that it has become evident by springing the immune system with vitamins which is one of the ways in fighting against the novel Coronavirus.
Madam Rafatu Inusah further added that, since the outbreak of the disease, the Ghana Rugby Ladies in collaboration with the Ghana Rugby Football Union have been preaching on the adherence to the safety protocols like keeping of social distance, wearing of face/nose masks, washing of hands frequently with soap and many others as ways to curb the pandemic.
She continued that, the Ghana Rugby Football Union aside preaching the safety protocols to Ghanaians, have gone further to test about 40 of its members for Coronavirus with more expected to come in the coming days.
Also to add her voice was the captain of Lions Rugby Club Anita Atieku, who expressed her happiness in joining the fight against the Coronavirus and thanked the donors for their kind gesture.
---XLiveAfrica.com