GFA Exco To Meet Next Week To Begin Putting Together A Roadmap For Next Season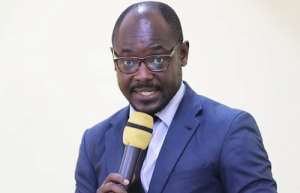 GFA Communications Director Henry Asante Twum
The Executive Council (Exco) of the Ghana Football Association (GFA) will meet next week to commence putting together a roadmap for the next football season.
On Tuesday, June 30, 2020, the country's football governing body at an Executive Committee meeting concluded by deciding that the 2019/2020 football season is canceled.
In a subsequent interview with Accra-based Angel FM, Henry Asante Twum who is the Communications Director for the Ghana FA revealed that the body is pained to be taking such a decision because of the huge investments that have already gone into the campaign.
Upon further engagements in the interview, the ace broadcaster disclosed that a meeting has been scheduled for next week for the GFA's Exco to start making plans for next season.
According to him, it is very likely the 2020/2021 football season will be synchronized with the European calendar. Henry Asante Twum also confirmed that plans have been initiated for the football community to go for Congress.