Continue Working Hard To Achieve Your Dreams – Grace Asantewaa To Local Players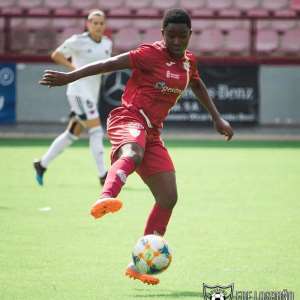 EdF Logroño midfielder, Grace Asantewaa has charged her compatriots back home in Ghana to continue working hard to ensure they achieve the dream of playing abroad.
The 19-year-old spent time with Ampem Darkoa Ladies in Ghana before she earned a transfer to play for EdF Logroño in the Spanish Primera División.
Having joined the side in September 2019, she had a role to play at the start of the 2019/2020 season before the campaign was suspended in March as a result of the Covid-19 pandemic.
Juxtaposing life in Spain to that of Ghana, Grace Asantewaa has noted that things are better in the European country as she notes that it saddens her when she thinks about the difficulties other players are going through back home.
"Looking at the conditions back in Ghana, things are better here when you compare. Even if you play in the division you will get something to live by.
"Me for instance, even though I am staying at home because of the Covid-19 I am still being paid. But to be in Ghana what you will even use to buy food if difficult to come by. So most times when I cast my mind back home I feel very sad", the midfielder said.
Grace Asantewaa further advised Ghana-based players to continue working hard while stressing that she is confident they will eventually be rewarded by God.
"I will not say the local league is not good because that is where we all started from before by the Grace of God we had the opportunity to move abroad.
"What I will tell other female players back home is that they do not have to give up and they should not give in to what people say.
"They should always motivate themselves and by the grace of God he will reward their hard work", the Black Queens asset said.
Eric Nana Yaw Kwafo
Journalist