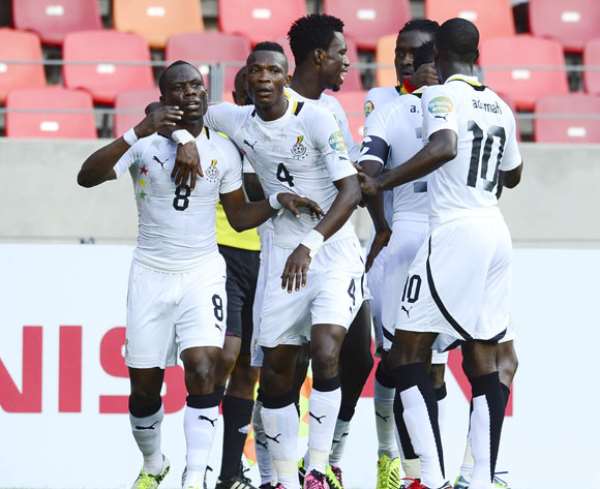 If there is one event that has brought people together and continues to unity people no matter the sex, race, political affiliations, black, white, demographic, and so on, it is football. It was through football games that Ghana's first President Osayefo Kwame Nkrumah donated the Osayefo Trophy for an annual Africa club championship to help consolidate the foundation of continental movement to bring all Africa together in the field of sports. They strove to promote pan-Africanism started in 1964 and brought countries together (Ethiopia, Tanzania, Mozambique, Zambia, etc.).
In Ghana, there are prodigious numbers of footballers that the world at some point placed them at the level of Brazil, who is touted as the soccer nation. With Carlos Alberto Parreira who had the privilege to coach the Blackstar in 1967/68year, would not be infelicitous to say they are the Brazilians of Africa because of their style of play and skill set they possessed.
Having conquered Africa in the 1960s, specifically in 1963 and 1965, they continued in 1978 and won their fourth trophy in 1982, since then, it has been 38 years and still counting. The Brazilians of Africa football took the world by storm in their maiden appearance in the 2006 world cup in Germany after qualifying from a group that was made of Czech Republic, Italy, the United States of America, and Ghana.
As of May 2006, Czech Republic was ranked second, USA fifth and Italy occupying thirteen positions on the FIFA ranking as at that time, Ghana defied the anomaly and qualified to the knock out stage to meet Brazil. They were knocked out in the round 16 by Brazil but were deemed to have done Africa proud as they were the only Africans left.
Indeed, there was no turning back as they qualified for the second time to the world cup in South Africa 2010. They progressed further to the quarter-finals had it not been the hand of Jingoist Suarez who touched the ball on the goal line stopping it from entering the net.
The contentious Portuguese referee Olegario Benqueremca then whistled for a penalty and gave Luis Suarez the matching orders. Asamoah Gyan missed the penalty die embers which could have sent Ghana to the semi-finals, the rest is history.
A country without paucity of talented players and it is in replete whenever needed, why they can't win their fifth Africa cup which has eluded them since 1982. There are numerous problems linked to not winning their fifth AFCON. Some are players not showing commitment enough, clandestine sleeping with ladies in camp, appearance and winning bonuses, Captaincy issues, selection of Quality players, spiritual issues, and so on.
Forsooth, these examples one way or the other has been a hobble to the Blackstar lifting a trophy for Ghana. In this article, we will look at other intriguing factors that have engendered our course to win the AFCON.
First, a team must be built for a period of time at least two years, what we normally call 'Project'. Some may argue that the first Africa Cup of nation Ghana partook in 1963, they were able to win. But let us not forget that, the 1963 squad had about eight to nine players who had played the league for at least three seasons thereby boosting the squad with experience, which represented 45% of their entire squad. Also, in the same squad (1963), Ghana had four young players between the ages 21-24 who understudied and made their presence felt in the1965 nation's cup.
He was 21 years then (1963) and turned 23 in 1965 where he was one of the top scorers and the best player of the tournament, not forgetting Ben Acheampong, who was always a top scorer. Kofi Pare and Agyemang Gyau were the other two of the four players. In Brazil, Ronaldo, 17, was taken to the world cup in 1994 just to have an experience of the world cup. He didn't play that tournament but was deciding the 2002 final between Brazil and Germany in Japan Korea, scoring both goals.
Already Big Phil had dropped Romairo which had caused a foment in Brazil. He won the Golden Boot with eight goals. This is analogous to the Osei Kofi scenario. Since the late Ben Koufie's five years development plan brought the likes of Michael Essien, Stephen Appiah, Sulley Muntari, Sammy Osei Kuffour and the rest, we have not seen such development again till now. After the under twenty world cup in Egypt in 2009, most of the winning squad like Agyeman Badu, Rabiu Mohammed, Jonathan Mensah, Dominic Adiyiah, Samuel Inkoom just to mention few, have had their stint with the Blackstars but lack of a proper plan by the nation and wrong move by some of the players also have stifled the team from winning the fifth cup. Recently, we heard Sammy Osei Kuffour, the former Blackstar and Bayern Munich defender in an interview with GTV said, "C.K. Akonnor needs six years to win a trophy and he knows that people will be hurt by his opinion".
Indeed, what comes to mind is 'project'? Already, Blackstars have seen 26 coaches in their 38 years trophy drought. In Germany, write after a thwarted 1998 world cup, the DFB sat down with its members to plan the way forward of the national team. They started with the 'Talent Promotion Program' which was too early for the Germans to reap it benefit in the European 2000, was Die Mannschaft performed abysmally. One month after, the DFB Taskforce was set up. It was made up of seven Bundesliga clubs and chaired by Bayern Munich's Karl-Heinz Rummenigge.
He told the other members that they have to look at the national teams as if it were the 19th and the best team in the Bundesliga. They have invested more than 70 million euros in nurturing talent every year since 2002 and this was possible with the help of their government. It is through this talent nurturing program that the likes of Thomas Muller, Toni Kroos, Mario Gotze, and the likes who helped in winning the 2014 world cup were hatched. Projects pay dividend and its dividend is TROPHY. The GFA and government must collaborate and have a proper plan for our national team as the Germans have shown.
Moreover, assembling quality squad with the core from the same team or league is another factor that cannot be left out. Telepathy in football is an essential tool for team building and for that matter winning trophies. Staying together as a team helps build a bond on and off the pitch among the playing body. It is for this we say that a couple of players in the same team or league will have the understanding of themselves when playing thereby winning laurels at some points. In the 2000 Africa cup co-hosted by Ghana and Nigeria, Cameroon won it with seven players who played in the France league.
Namely: Pierre Njanka at Strasbourg, Pius N'Diefi at Sedan, Lucien Mettomo at Saint Etienne, Joseph N'Do at RC Strasbourg, Marcel Mahouve at Montpellier, Salmon Olenbe at Nantes and Joseph-Desire Job at Lens. Coincidently, the indomitable Lions head coach as at that time was also from France, is it not interesting? They had four of the players also from Spain with the likes of Eto'o and Geremi both at Real Madrid, Lauren at Mallorca, and Raymond Kalla at Extremadura. With this squad, they will boast of understanding and quality and tactical acumen from the coach, the team will perform.
Another classical example is the Ghana 1963, 1978, and 1982 winning team. The 1963 squad were all playing in Ghana but had ten Real Republicans, with the likes of Dodoo Ankrah, Edward Aggrey-Fynn (captain), Addo Odametey, Agyemang Gyau, Franklin Crentsil, Emmanuel Oblitey, Ben Acheampong, Kofi Pare, Ofei Dodoo, and Edward Acquah.
Not forgetting, four players from Kotoko namely: Mohammed Salisu, Wilberforce Mfum, Osei Kofi, and Kwame Adarkwa. In 1978 squad, the Blackstars had four players from Hearts of Oak (Ofei Ansah, Adolf Armah, Mohammed Polo, Anas Seidu) and Kotoko (Fuseini Salifu, Addae Kyenkyehene, Karim Abdul Razak, Opoku Afriyie) each, who were key to winning of the third Africa cup of nations.
Again, the Blackstars had nine players from Kotoko in the last AFCON they won in Libya 1982 who contributed immensely to winning the cup. Lastly, if you look at the winners from 2000 to 2019, you would agree with the factor and the examples above. In 2000, Cameroon had seven players playing in France, four from Spain and four from Cameroon. In 2002, Cameroon retained the cup with seven players playing in France and four from Spain. In 2004, Tunisia won the trophy with eleven players playing in Tunisia, out of which four played in Esperance.
In 2006, 2008, and 2010, Egypt won the Africa cup three times consecutively with twenty players playing in Egypt, of which nine were at Al-Ahly and six from Zamalek in 2006, fifteen players played in Egypt in 2008 and nineteen players in 2010. Zambia won the 2012 Africa cup with their core squad playing in the Zambia league and TP Mazembe, producing five players each for the national team.
Nigeria had five players in the Nigerian league who contributed in their 2013 AFCON victory, Ivory Coast with eight players from French league and four from the English league in 2015 AFCON and 5 players from Algerian league also pitched in their quota to the 2019 AFCON cup won just recently. They were blessed to have their own coaching (Djamel Belmadi) in their triumph. Otto Martin Pfister in an interview with Citi sports said," C.K. Akonnor should not call foreign players who struggle for game time and added that C.K. Akonnor should use the whole of Accra Hearts of Oak or Kumasi Asante Kotoko if he feels they have the quality to give him the needed result".
Furthermore, appoint a pragmatic or serial winner when you have a golden generation. A perfect example is the Ivory Coast 2015 with Herve Renard. Although the likes of Didier Drogba, Zakora, Kone were not part of the winning team, the likes of Boubacar Barry, Kole Toure, Siaka Seydou Doumbia, Gervinho, Wilfried Bony, Max Gradel and Yaya Toure who were in the golden generation were part of the winning team. After the Elephant boys had won the cup in 1992 against Ghana, they came close to winning it in 2006 only to be beaten by the host nation Egypt.
Fast forward, they qualified for another final in 2012 against Zambia in Equatorial Guinea, where they were the clear favorite on paper but Zambia defying all odds to win on penalties. Interestingly, it was Herve Renard who was the coach for Zambians at that time. In July 2014, Herve Renard was appointed as the head coach of the Elephant having failed twice to win the AFCON since 1992. With his track record with Zambia, it was clear he was the man the Ivorians wanted, and indeed, he delivered to them the trophy they have craved for.
Subsequently, Ghanaians know that as at the time the Blackstars were winning the 1963 and 1965, the countries who were involved were only six and in the 1978 and 1982, it increased to eight and now it is twenty-four but does it matter? The above factors should be perused by the Ghana Football Association and the government. As Ghanaians have always had the will to win the AFCON cup since 1982, there should be a way.
The only way is to plan well and not just prepare, which means it will take time before the benefits are reaped as the above winning teams had the time and it paid off. The football we understand is run with different skilled sets but to win a trophy has a constant tool that is proper planning. Ghanaians will have to wait as it is always written that, it pays to be patient.
The last time Blackstars won the Africa cup was in 1982 and will be hoping to change their kismet in the coming years.