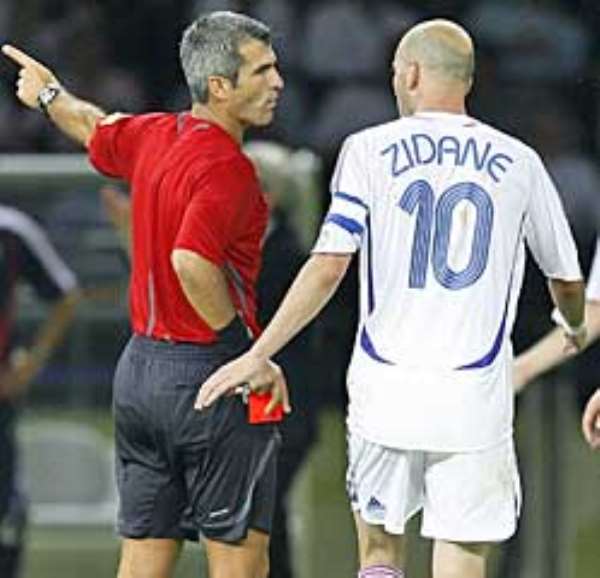 Zidane's headbutt was too late to stop him winning the Golden Ball
Zinedine Zidane won Fifa's Golden Ball award on Monday, given to the
player of the tournament at World Cup 2006, even though he was sent off
for heabutting Italy's Marco Materazzi in Sunday's final.
The poll was conducted at half time during the final, meaning that the
headbutt could not be taken into account when considering the winner.
The award marks a bizarre twist in a shameful end to the career of the
French maestro.
In 1998 Zinedine Zidane's head won the World Cup final for France, used to
glorious effect in nodding in two goals as France destroyed Brazil 3-0. On
Sunday, in the 2006 World Cup final between France and Italy, Zidane's
head was at the forefront of affairs again, only this time for all the wrong reasons.
Inexplicably, nine minutes from the end of extra time, with the scores
tied at 1-1, Zidane chose to plant his head firmly into the chest of Italian defender Materazzi.
A red card was all that could follow, France ended up losing the game
on penalties, and Zidane's career ended in utterly unexpected disgrace.
French coach Raymond Domenech chose, amazingly, to defend his star
player. "Materrazzi is the man of the match, not Andrea Pirlo," said
Domenech, according to BBC Sport. "When one has to put up with what Zidane had to and the referee doesn't do anything, one understands. You can't excuse it, but you can understand it."
This is by no means the first time that Zidane has committed a violent act
on a football field. In the 1998 World Cup, Zidane was sent off against Saudi Arabia for stamping on an opponent. And in 2001, 'Zizou' was red-carded for headbutting Jochen Kientz when Juventus played Hamburger SV in the Uefa Champions League. But the timing of this particular act, just minutes from the curtain coming down on Zidane's glorious career, is quite staggering.
For the Golden Ball, Zidane won with 2012 points, just ahead of Italy
captain Fabio Cannavaro.