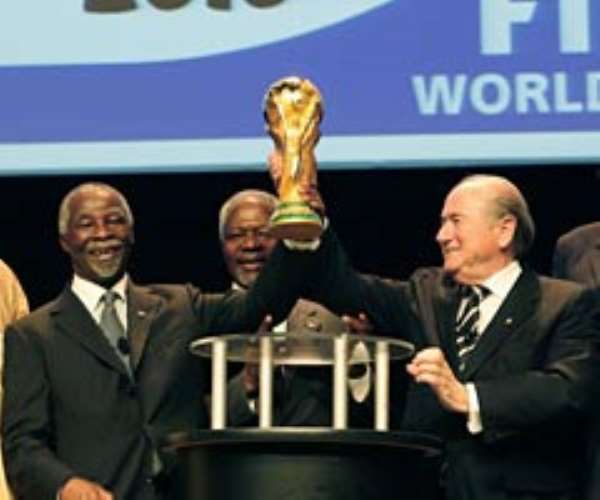 SA President Thabo Mbeki and FIFA President Sepp Blatter
South African President Thabo Mbeki has promised the world that the first FIFA World Cup to be staged on African soil will be the most successful World Cup ever.
The Republic's president was speaking at the official launch of the 2010 World Cup logo, held in Berlin's Tempodrome.
"We said we will host in 2010 the most successful FIFA World Cup and we will keep that promise," said Mbeki.
"Africa is ready, Africa's time has come, Africa is calling. Come to Africa in 2010."
Mbeki called upon football fans from around the world to join in a celebration of the African continent and the power of football to unite even the most diverse of people.
"We invite all football fans to journey to a tourist paradise across our magnificent continent of Africa. The 2010 World Cup will stand out as a unique event that celebrates Africa in all its magnificent splendour, its vibrancy, its uniqueness and its diversity," said Mbeki.
FIFA President Sepp Blatter, also speaking at the grand event, explained that allowing the continent to host its first World Cup was a "justice" served to the people of Africa.
"You can call it justice for African football, but also justice for Africa - for all the women and the men of this continent," said Blatter.
Doubts about South Africa's ability to be ready and able to host the World Cup in just under four years time were dismissed by the FIFA President.
"I am optimistic for Africa. There's been some information around the world, specifically in your own country, questioning your ability to host the World Cup.
"Mama Mia, the whole world trusts you, the FIFA family trusts you, 207 national associations, 250-million active participants in the world of football, more than one billion people behind the FIFA family. And they say yes to South Africa, we trust South Africa," exclaimed Blatter.