Christopher Damenya Offer To Pay George Amoako's Unpaid Salary At Kotoko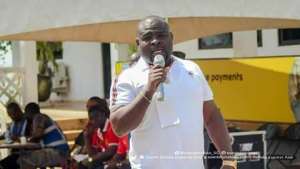 Christopher Damenya, the chairman of Asante Kotoko's National Circles Council (NCC) has offered to pay for the unpaid salary of former Chief Executive Officer George Amoako.
George Amoako worked in the capacity of CEO at the Kumasi-based club for the last couple of years before being relieved of his post earlier this month following the constitution of a new board of directors by Manhyia, the seat of Asantehene of Asanteman.
The experienced football administrator left office while being owed 5 months' salary. As reported earlier, he has written to the club to ask for the payment of the unpaid wages.
With the news being carried by almost every media outlet, Kotoko's supporters' chairman Christopher Damenya has deemed it as a disgrace to the Ghana Premier League record holders.
According to Accra-based Angel FM, he has hence decided to single-handedly settle all the unpaid wages.