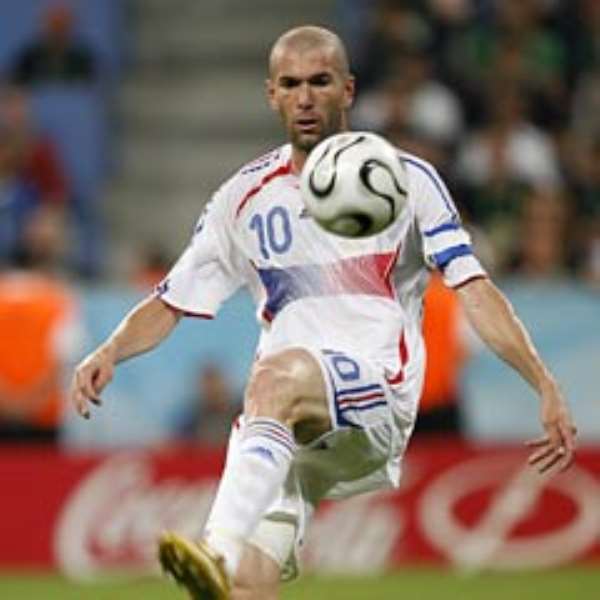 Zidane is going for a second
The 2006 World Cup final on Sunday, will be a special occasion for all involved, but none more so than for one man: Zinedine Zidane.
Zidane, the maestro, the legend, will be playing his final game of professional football when France take on Italy in Berlin.
He has promised to retire from the game after the tournament ends, and now he has the chance to go out on the ultimate high.
Zidane has won pretty much everything the game has to offer, be it at club level, the Uefa Champions League with Real Madrid, or with France, with whom he won the World Cup on home soil in 1998, scoring twice in the final.
If that was a remarkable

achievement, victory for Zidane and his countrymen against Italy on Sunday will be even more so, for it has quite literally come out of nowhere.
Zidane's own form with Real Madrid this season was frankly shocking, and he appeared to carry this into France's first two World Cup 2006 group matches, against Switzerland and South Korea.
Indeed the whole French side looked lethargic playing out two feeble draws, even a victory over Togo, without the suspended Zidane, was hardly impressive.
Since then, the rise of Zidane and France has been as pleasurable as it has been amazing.
Playing each game as if it could be his last, Zidane has been a force renewed, his performance against Brazil in the quarterfinals as impressive as any seen at a World Cup finals for a long, long time.
It was almost inevitable that he should step up and slot home the winning penalty against Portugal in the semifinal.
A spot kick it may have been, but it summed up Zidane at his most imperious.
From a two step 'walk' up (well, you couldn't call it a run up), he smashed the ball past Portugal 'keeper Ricardo. Ricardo, who had looked so good against England's pathetic penalties, could do nothing about this one.
Not just Zidane but all of the French 'old guard', the likes of Lilian Thuram, Claude Makelele and Thierry Henry (though he may yet have one more World Cup left in him; only time will tell), have a chance to go out with a bang against Italy.
Italy may say otherwise, but France are the underdogs in Berlin, so impressive have Marcello Lippi's men been in the tournament thus far.
Then again there is no doubt who the class act on either side is, even at 34.
If Zidane can shine, that second World Cup may just be his swansong.