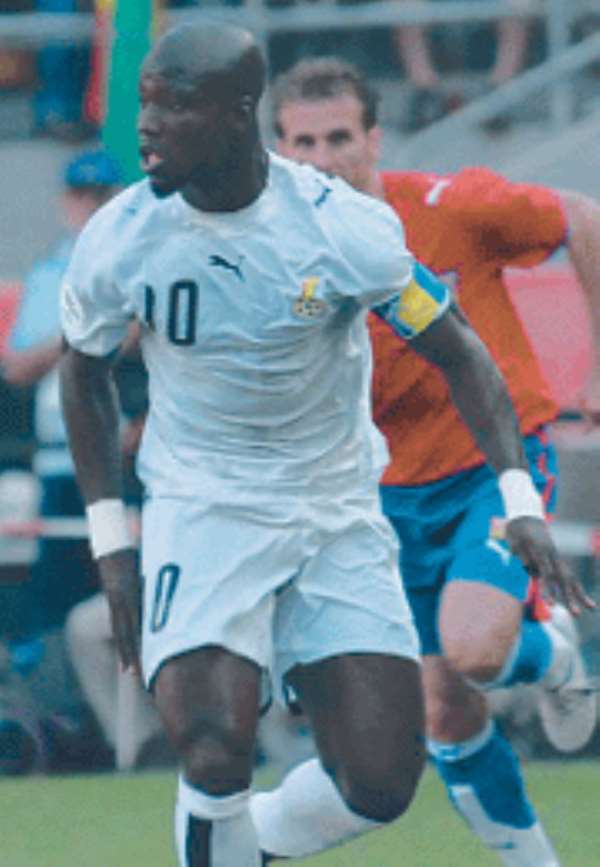 Stephen Appiah - captain and member of the trio
The senior national team, the Black Stars have indeed endeared themselves to the hearts of world football on their first appearance at the World Cup.
Receiving rave media reviews for their outstanding performance at the group stages and a brave performance against defending champions Brazil, the Black Stars' midfield trio of Stephen Appiah, Michael Essien and Sulley Muntari has also been adjudged the revelation of the competition by the FIFA Technical Committee.
The trio who marshalled Ghana's midfield against Italy and the Czech Republic were highly commended for their performance, which ensured that Ghana played a free-flowing game in their matches.
According to the technical men, who took advantage of the break to meet last Thursday, even with the high level of scoring down, there's been no shortage of drama at the World Cup.
With four games remaining, this World Cup has produced 137 goals in 60 matches, an average of 2.36 a game. Of the 17 previous tournaments, only Italy 1990 averaged fewer goals per game at 2.21.
Overall, the tournament average is 2.93. Sophisticated defences, good coaching and the heat of the German summer have all played their part in the tournament to date.
Not to mention the rash of fouls and record number of yellow and red cards.
"The game is not as open as it was. But I don't necessarily think that it makes it any less dramatic," said Andy Roxburgh, UEFA Technical Director and a member of FIFA's technical and development committee.
"You can get a game that's won 5-0 and it's a terrible game because one team wins easily and the other's hopeless...
"What you really want to have is a drama in the match. And if we get a drama, like we've had in some of the games here, if you watch Mexico-Argentina as an example, it's a fantastic example of football played at the highest level. ... We saw everything in the game. That's also football. It's not just about the goals count.
The goals count can be an indicator, but it's not just about that. You can have a wonderfully exciting match that ends up as it did with Argentina-Mexico, 2-1 into extra time."
Some of the drama has come from the flurry of yellow and red cards.
Roxburgh and Holger Osieck, head of FIFA's Technical Department, did not address refereeing or cheating by players in the form of diving. But Roxburgh rejected a suggestion that FIFA's clampdown at the tournament had unsettled players.
"I think if you tell people in advance what to expect, you've got a better chance of getting it," he said. "And FIFA were quite clear at the beginning about the things that they were going to emphasise in the World Cup. So nobody was in any kind of doubt about the way this World Cup was going to be approached."
The technical committee saved special praise for Argentina's goal against Serbia and Montenegro, with Esteban Cambiasso capping an attack that covered some 25 passes and lasted a minute.
The FIFA committee also noted:
Scoring first is crucial: Only nine matches have seen the team that didn't score first recover to win.
The power of the set piece, which has accounted for some 20 goals already.
Teams are using fast breaks to penetrate defences playing deeper, especially on the counterattack. The committee counted almost 20 defence-splitting balls to date.
Young stars: The committee pointed to Argentina's Lionel Messi, Spain's Cesc Fabregas, Switzerland's Philippe Senderos, England's Wayne Rooney and Germany's Lukas Podolski.
Midfield action: The committee also said Ghana's midfield built around trio, captain Stephen Appiah, Michael Essien and Sulley Muntari were a revelation of the competition considering the fact that it was their first World Cup appearance.
Coaching savvy: Examples included Australian coach Guus Hiddink getting goals from substitutes Tim Cahill and John Aloisi in a 3-1 comeback win over Japan; Trinidad and Tobago's Lee Beenhakker putting on an extra striker despite going a man down in the 0-0 tie with Sweden; and Italy's Marcello Lippi bringing in Francesco Totti against Australia, adding to the line-up someone with the composure to convert a last-second penalty kick for a 1-0 win.