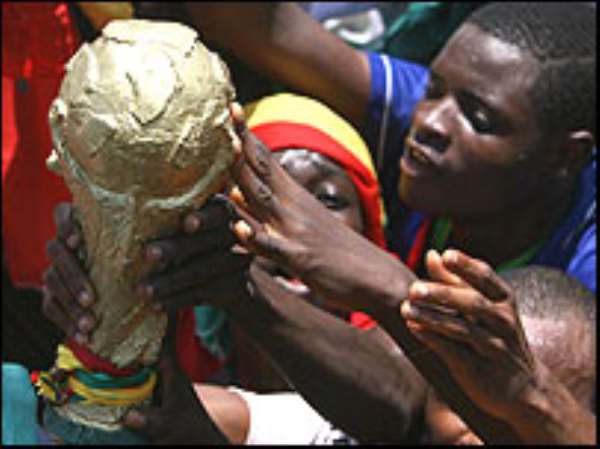 Ghana's first World Cup has lifted spirits back home
Ghana's first appearance in a World Cup finals has affirmed its status as a resurgent force in African football, whether they beat Brazil on Tuesday or not.
Ghana have failed to win the Nations Cup since winning their fourth title in 1982, but now the Black Stars will be among the most feared sides on the continent.
They host the Nations Cup in 2008 and will be tipped to lift it for a fifth time.
One thing's for sure, they will not lack support, as the wild scenes that have greeted Ghana's displays so far in Germany have illustrated.
National pride has soared to new heights, with the Ghanaian flag and colours displayed on buildings and draped on cars across the country.
The World Cup could unify Ghanaians, who are traditionally split between Hearts of Oak and league holders Asante Kotoko, more than ever before.
For the players, it means adulation, recognition and the opportunity to sign lucrative contracts with European sides.
Ghana and Brazil have met on only one occasion at senior level, a friendly 10 years ago in Brazil.
But at youth level they are no strangers to each other. Ghana have beaten Brazil twice on the way to winning two Under-17 world titles, while the South Americans have beaten Ghana at Under-20 level.
Both sides are admired by many Africans for their stylish brand of football and Ghana have been referred to as the Brazilians of Africa.
And the most famous footballer to come out of Ghana, Abedi Ayew, was nicknamed after Brazil's greatest, Pele.
While Pele was winning three World Cups with the Selecao, Ghana were establishing themselves as the supreme power in Africa.
Between 1963 and 1970, the Black Stars played in four successive African Nations Cup finals and won the first two.
Their domination reached a climax at the 1978 Nations Cup, before which they prepared with an extended visit to Brazil.
The Black Stars returned with a fancy short-passing game never seen before in Africa and four years later Ghana became the first African side to win the Nations Cup four times.
However, unlike Brazil, who have played in every World Cup, successes in Africa failed to translate to the international stage.
That Ghana surged ahead as the dominant force in Africa decades ago should be no surprise.
It became the first black African country to gain Independence in 1957 and their first head of state, Dr Kwame Nkrumah, was influential in organising the first African Cup of club champions in 1964.
Nkrumah also sent former players like Charles Gyamfi to Eastern European countries for coaching courses with the aim of building a strong national side.
Gyamfi won the Nations Cup at home in 1963 and retained the title two years later in Tunisia.
After Nkrumah's overthrow in 1966, foreign coaches flooded into the country, including current Brazil coach Carlos Alberto Parreira, who was a physical trainer with the Ghanaians at the 1968 Nations Cup.
That Ghana failed to translate their continental pre-eminence to the global scene was largely down to the fact that Africa did not have an automatic spot at the World Cup until 1970, when Morocco played Mexico.
The Black Stars' belated appearance will trigger a new boom in Ghanaian football, enabling the Ghana Football Association to pull in more sponsorship and increase merchandising sales.
Some companies are already hatching ways to hook up with the national team and football in general.
And Liverpool are in talks with Ghana Premier League side AshantiGold with a view to establishing a football school in the country, which will no doubt be accelerated given Ghana's displays in Germany.
Dutch side Feyenoord already have an academy with a side that plays in the Ghana Premiership and more European clubs are likely to establish centres in Ghana or other African countries.