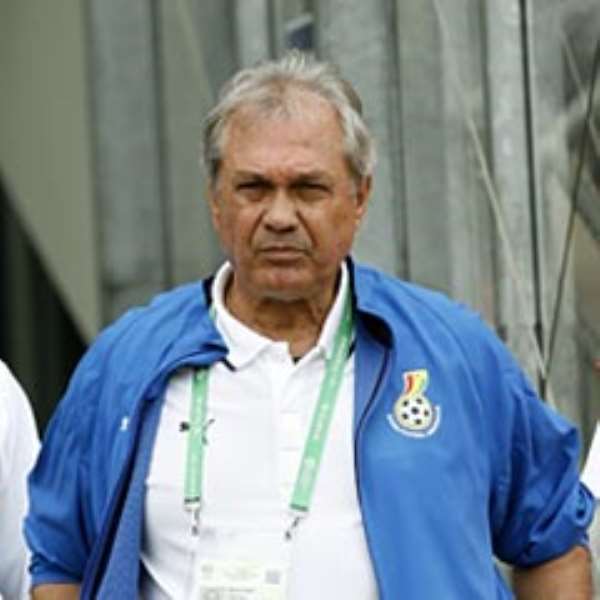 Djukovic admits Ghana have nothing to lose against Brazil
It has been said that playing against Brazil at the World Cup is one of every (non-Brazilian ) player's footballing fantasies.
Well, the smile on Ghana coach Ratomir Dujkovic's face says it all – it's every coach's fantasy too.
The Serbian coach sits in his team's hotel in Wutzburg, a small town between Frankfurt and Nuremberg, with the air of a man who can't quite believe what is happening to him.
His Black Stars side, whom he has guided to their first ever World Cup finals, are now in the last 16 of Germany 2006, where they will play the reigning World
Champions, the mighty Brazil.
"This is a dream," admits Dujkovic.
"I never thought that I would get to this level of coaching. I was named African coach of the year with Rwanda (whom he guided to their first ever MTN Africa Cup of Nations in Tunisia in 2004).
"But this is the biggest achievement of my career".
And to think Dujkovic's job looked in jeapoardy earlier this year, as Ghana crashed out of the MTN Africa Cup of Nations in the group stages.
Now, Ghana will surely face a battle to keep their man after the World Cup.
"After the World Cup, I will go home to rest for one month," said Dujkovic.
"Then I will talk to the Ghana Football Federation to see what we can do in the future. My contract expires at the end of the year. I have offers but I refuse to discuss this. At the moment I am coaching Ghana."
Certainly, one would not begrudge a man the decision to focus on exactly how his side are going to stop Ronaldinho and company on Tuesday.
They must, of course, do so without their star player, Chelsea's Michael Essien, suspended after picking up two yellow cards in the group stages.
Essien's second yellow was an abomination of a decision by German referee Markus Merk, but Dujkovic is reticent to talk about it.
"This is the decision of the referee. I have no comment on it," he says, perhaps wisely.
Essien's suspension aside, Ghana are simply over the moon about facing Brazil.
They do not, however, intend to be overawed by the World Champions.
"We are very happy to face Brazil, but we keep telling our players, when they go out onto the field, they cannot be impressed by the stars of Brazil. "We must respect them, but we must first respect ourselves. We will do everything that is possible to beat them".
"Nobody expected us to beat the Czech Republic or the USA".
Certainly, after defeat to Italy in their opening Group E match, few gave Ghana a chance of progressing.
Doomsdayers indeed, saw the worst World Cup for African teams since 1978 looming over the horizon.
That the Black Stars have turned that around, is due in no small amount to some courageous selection decisions by Dujkovic.
After the defeat to Italy, out went experienced defenders Sammuel Kuffour and Emmanuel Pappoe, and in came two unknown Ghana-based players, Shilla Iliasu and Habib Mohamed.
Both have excelled, with Ghana conceding just one goal in two games. Dujkovic maintains that this was all pre-planned.
"We prepared for this previously. We were always going to bring in Iliasu and Mohamed for the Czech game because we knew they had very tall players, and we wanted to counteract this.
"For the USA game, I am a man who believes you do not change a winning team unless you are forced to do so by injuries or by suspension".
While Dujkovic admits Essien will be a loss, and that the return of winger Sulley Muntari and striker Asamoah Gyan will boost the team, he is far keener to talk about the whole squad, and the unity that is coursing through it at the moment.
"This is an excellent group, it really is," he said.
"After we beat the Czech Republic, we gave them the night off. We told them they could go out the whole night if they wanted. But nobody went out. Everybody stayed in the hotel! These players are very united".
Ghana have few apparent advantages going into the clash with Brazil. After all, they are playing a side ranked number one in the world that has not lost a World Cup finals match since the 1998 final – a side that were most people's pre-tournament favourites to win the World Cup again.
But then there is the old adage of the team with nothing to lose … just look at how close Mexico ran Argentina on Saturday night.
"This (Brazil) is the biggest team in the world. If we in, it is fantastic, if we lose … it is excpected," admits Dujkovic.
Ghana, meanwhile, are well aware they are now not just representing themselves at this tournament, but also the entire continent of Africa.
"Before the USA game, Roger Milla (Cameroon striking legen) and Samuel Eto'o (current Barcelona and Cameroon star) can into our dressing room. This is very important. Only in Africa would this happen, players from another country coming to offer their support. Never in South America."
As a former coach of Venezuela, Dujkovic would know.
And perhaps, with the force of Africa behind them, Ghana can just pull off a miracle on Tuesday. Just imagine the streets of Accra is that happened …….