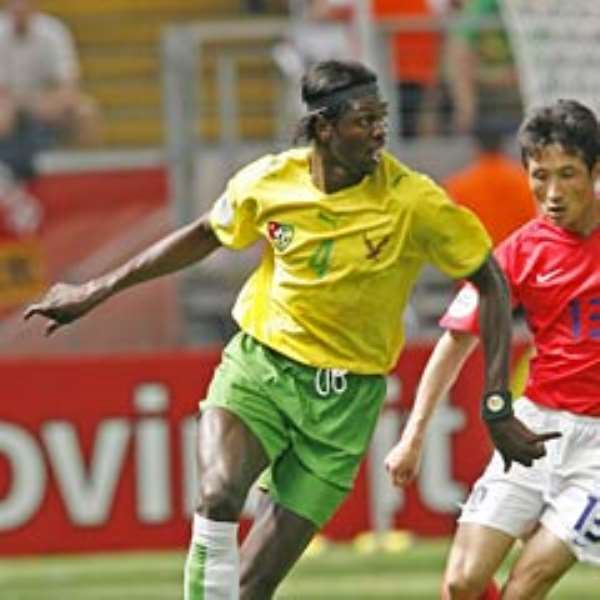 That's it, the Hawks go home without a point, and with plenty of tarnished reputations after spending much of their time arguing over bonuses with their own FA. On the pitch, they've not been bad, but also haven't been that good. France march, well more trundle, into the last 16.
88 - Don't forget we've got a play by play to bring you on Tuesday. It's a momentous last 16 match for the Black Stars of Ghana against Brazil in Dortmund. Join us from 2.30pm GMT (4.30pm local time).
83 - While things peter out rather undramatically in Group G, let's take a look at the last 16 as a whole. There's some surprises, notably Ghana, Australia and Ecuador, and Switzerland shocked by topping their group, but mostly all the favourites have got through, some (Argentina) more impressively than others (England). It should be a cracking second half to the tournament.
81 - This has turned out to be a bad tournament for the Asian confederation. They are the only confederation not to have a team in the last 16. Iran, Saudi Arabia, South Korea and Japan are all out. Maybe this is why they accepted Australia as part of their confederation from the new season. And well done Ghana for keeping Africa's hopes alive!
79 - So it seems the French have got a let off, and a second life in this tournament. Certainly France v Spain is one of the ties of the last 16, unlke Ukraine v Switzerland. The Spanish would certainly rather have avoided, Les Bleus, one feels. Zidane will be back for that game, of course, and if he can find his form, France will be a different proposition altogether.
77 - This group is now pretty much decided, because Alexander Frei has scored for Switzerlad to make it 2-0. Switzerland should now win the group, with France second
74 - Emmanuel Adebayor's World Cup is over and goalless as he is replaced by Thomas Dossevi
72 - Sylvain Wiltord replaces Florent Malouda for France
70 - Trezeguet misses two good opportunities in minutes to make that previous post irrelevant. Thankyou, David, for salvaging my mathematics, I do appreciate it.
67 - Right, I've figured something else out. If South Korea equalise, and it stays like that, France and Switzerland will have exactly the same record, goals scored, goal difference and everything. Their head-to-head was 0-0 so Fifa would have to draw lots to see who finishes top of the group. That would be amazing
64 - Time to get my calculator out... Even if South Korea equalise, France still qualify if they retain this 2-0 lead
61 - GOAL! FRANCE 2 TOGO 0.Thierry Henry scores his second goal of the World Cup finals, set up by Patrick Vieira, and France have that second goal
57 - The tension for the French is still not over, and they must keep coming forward, however. If South Korea get an equaliser, as it stands, France will go out.
56 - It's still Switzerland 1 South Korea 0. All of which means that, as it stands, Switzerland will win the group and France will finish second, setting up a mouthwatering encounter between Spain and Les Bleus
55 - GOAL! FRANCE 1 TOGO 0. Togo are not coming alive any more. Patrick Vieira rifles a shot past Kossi Agassa and suddenly France are back in the qualification hunt!
51- Adebayor is wrongly flagged offside and then Mohammed Kader thrashes a shot over the bar. Togo are coming alive!
48 - Can France find a goal here? If they don't, utter humiliation is lurking just around the corner. And he's not a pleasant fellow...
46 - the second half gets underway in Cologne
HALF TIME - FRANCE 0 TOGO 0
43 - The Sheriff of Togo - Cherif Toure Maman - is booked for a foul on Patrick Vieira
42 - Switzerland still lead South Korea 1-0. It would be ridiculous if France went out because they couldn't even stick one past the hawks. But half time is steadily approaching. If Switzerland win the group, they will play the Ukraine in Cologne on Monday. Tie of the round? I think not
39 - TREZEGUET SCORES! Erm, no he doesn't because the offside flag is up. Malouda, hit the initial shot, parried by Agassa and Trezeguet was offside when he turned in the rebound.
38 - Ok, I've had it - France = hopeless at this World Cup. All these World class stars and they can't even score nearing half time against Togo. They should be sent home by Fifa even if they qualify! Ok, that's a tad extreme, I'll calm down, but really! Of corse Togo are liberated by the fact that they have nothing to play for. But France have only themselves to blame for being in this mess in the first place
34 - Double save by Agassa from Ribery and then Trezeguet. Is it set to be a night of heroics from the Metz 'keeper that deny France
30 - Yellow card for France midfielder Claude Makelele
27 - Oh, Monsieur Ribery! What was that? Thierry Henry puts the Marseille winger clean through, but he wellies his shot over the bar. Arsenal and Manchester United may begin to look elsewhere with eforts like that.
24 - Phillipe Senderos has just scored for Switzerland, they lead South Korea 1-0. As it stands, France just need to win to go through. But they haven't managed three points in this tournament just yet
22 - Another pathetic effort from Trezeguet. It's been a pretty dire day of football thus far. Tunisia against Ukraine was an abomination, I know because I was there. And reportedly, Spain v Saudi Arabia was pretty painful too
16 - Winger Franck Ribery, apparently wanted by both Manchester United and Arsenal, shoots tamely at Agassa. France are looking toothless yet again.
15 - The latest score I have from South Korea v Switzerland, by the way, is 0-0. If it stays like this, France are out. But there is a long, long way to go
14 - Florent Malouda has a go, but Kossi Agassa gets down well to save
8 - Juvenbtus strker Trezeguet heads inches over the bar for France
3 - France are certainly doing most of the attacking early on, as one might expect. They need to score at least twice if South Korea and Switzerland draw tonight's other game.
1 - The referee Jorge Larrionda from Uruguay gets the game underway.
Hello and welcome to MTNfootball.com's live coverage of this Group G clash between France and Togo. France have to win and still keep an eye on the result of the Switzerland-South Korea match, so precarious is their position in these World Cup finals. Togo are out, of course, but can they upset Les Bleus this eveing?