1992 AFCON: Anthony Baffoe Slammed For Accepting Captaincy Role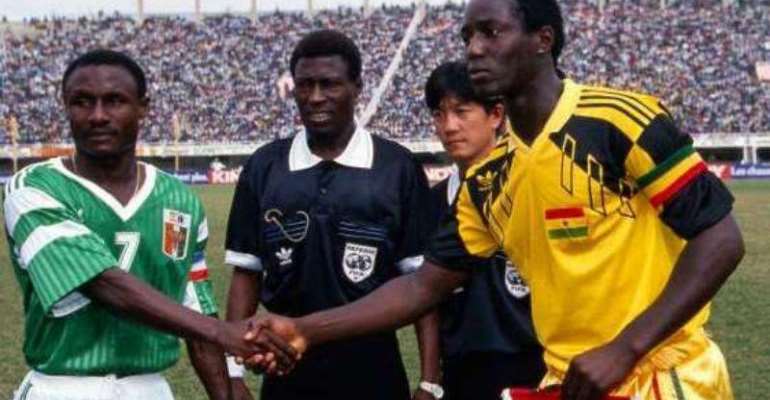 Former Ghana international, Prince Polley, has slammed Anthony Baffoe for accepting to captain the Black Stars in the 1992 Africa Cup of Nations (Afcon) final against Ivory Coast in Senegal.
Ghana's hope of winning their fifth African Cup were dashed after losing 11-10 on penalties against Ivory Coast.
With the suspension of substantive captain, Abedi Pele, suspended for the game, his deputy, Anthony Yeboah was supposed to lead the team in the final.
But he was overlooked as Tony Baffoe was named to captain the team with an explanation that decision was taken based on an order from Ghana.
However, Polley, who was a member of the team, has insisted that they lost the cup due to captaincy rift.
In an interview with Kumasi based Angel FM, he said, "If Tony Baffoe had rejected the captaincy, it would have helped the entire team to win the trophy. Immediately they named him to lead us, the spirit of the team faded. During the penalty shootout, Tony Baffoe was the one who blew the last penalty away. Truth to be told, he blew it away because he was under pressure.
"I never thought he (Baffoe) can lead the team. If I were him I would have rejected it. I have exhibited that before. I remember we were playing against Liberia and with the absence of both Abedi Pele and Tony Yeboah, they wanted me to lead the team but I told them to give it to Frimpong Manso since he was a senior player and interestingly Manso grabbed the match winner for us.
"Tony Yeboah was at the top so he (Baffoe) should have rejected it and support him.
"Tony Baffoe got the opportunity to play for the national team through Tony Yeboah. So stripping him off the captaincy in the final means the authorities lost hope in Tony Yeboah"
"In fact, the belief that we had in winning the cup took a nosedive because of the captaincy issue. During the game, you could see clearly that Tony Yeboah was on and off but I knew him to be active throughout our games.
"What I keep saying is that I'm proud to share the pitch with Abedi Pele but I think he couldn't promote unity among us. I strongly believe that we could have won even a world cup with the squad at our folds if we were united.
"I think his (Abedi Pele) leadership style declined due to the division between players," he added.
Ghana has not win the Afcon since 1982.