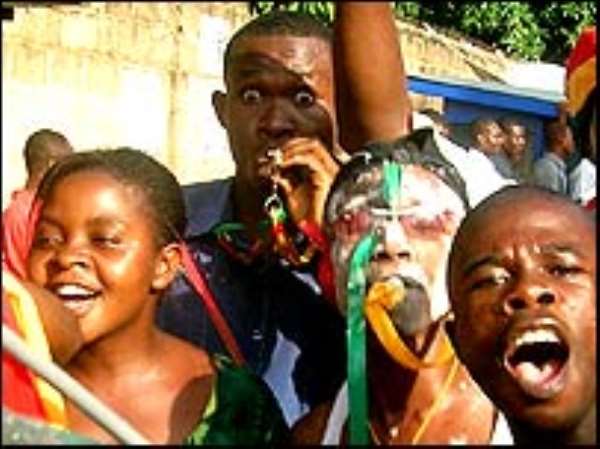 It felt as though the entire population of Accra emptied onto the streets on Thursday afternoon, as Ghana exploded in ecstasy after qualifying for the second round of the World Cup.
It was the four-times African champions' first appearance at the tournament after decades of trying.
Men, women and children screamed and screamed and screamed and no words emerged. They just screamed and kept screaming.
Several groups of youths ran up and down the 1km length of Oxford Street - one of the main shopping streets in the south of the capital, blocking traffic - but no one complained.
Motorists tooted ceaselessly as their vehicles hurtled on Ring Road, the city's main dual carriageway. Passengers hung perilously from the windows of cars.
The streets were flooded with the national colours of red, gold and green. People were draped in them, cars flew them and lamp-posts held them aloft.
To call it a carnival does not quite capture the atmosphere.
Offices were abandoned and even President John Kufuor took a break from less-pressing duties and watched the entire match at his office, sharing a drink with close staffers at the end.
'Appiah's child'
"I think I'm going to die. I want to die. I'm ready to dieeee!" a young taxi driver shouted as he leapt out of his car, abandoned it in the middle of the road and ran in circles.
"I can't believe this!" screamed Richard Apedonu, a telecom company office manager.
"It feels like a dream! It feels just like a dream, I don't want to wake up! This is simply magic! It's fantastic!"
"I am proud to be Ghanaian! This is a good time to be Ghanaian," yelled a bespectacled man.

A heavy-set roasted-plantain vendor, leaping up and down with amazing ease, screamed: "Ghana ye ye buei", which translates as, "Ghana, we're great!"
"I want to have Stephen Appiah's child," another woman shouted, referring to the player who scored Ghana's winning goal.
'Superpower'
The prospect of meeting Brazil next does not seem to have dampened a single soul.
"Brazil? Who is Brazil?" questioned one man, holding an empty beer bottle in one hand and a freshly-opened one in the other.
"Haven't you heard the story of David and Goliath?" another man chipped in.
"Obiaa nye obiaa," he said - "We're all the same."
Interest in the tournament had surprisingly been somewhat lukewarm in the run-up to the championships, picking up a little bit of steam only after the national team beat South Korea in a friendly game.
Although many people in the streets said the Black Stars would do well, they seemed to say so out of duty rather than conviction, seeing how poorly they performed at the African championships in January where they were kicked out in the preliminaries.
But it is all history now. As one text message making the rounds put it: "After beating America, Ghana is now a superpower. Now we should get into nuclear enrichment!"