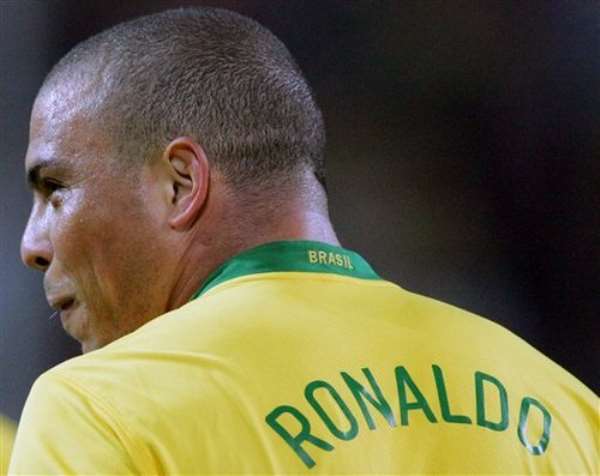 Brazil's Ronaldo celebrates after scoring during the World Cup, Group F soccer match between Japan and Brazil, at the Dortmund stadium, Germany, Thurs
THE DAY REPLAYED: Real success for an African side at the FIFA World Cup™ - laying their hands on the actual Trophy – might still seem some distance away but it can never be said that their representatives fail to bring something positive to the party. This time round it fell to Ghana, following on where Nigeria (1994) and Senegal (2002) had led in qualifying for the Round of 16 on their first appearance in the competition.
Their achievement was then matched five hours later by Australia who came through a tumultuous affair with Croatia to take second place in Group F. Harry Kewell, whose luck so often deserts him on the big stages, scored the winner with 11 minutes remaining of a game that had everything, including three red cards. The Socceroos will next face Italy who made sure of their place as group winners with the defeat of the Czech Republic, who now turn for home. Brazil put on a dazzling show to win Group F and it is the five-times champions who Ghana will line up against next. The second round promises to be something truly special.
Ghana's achievement in putting the Czechs' senior generation of Pavel Nedved, Karel Poborsky and Jan Koller in the shade is all the more creditable given the difficulties posed by this particular group. Italy, along with the Czech Republic, regularly produce outstanding footballers, while the USA are ranked fifth in the world. But it is the African debutants who stay on in Germany.
They played well in their opening game when they were arguably unfortunate to lose to Italy. The Czechs had been highly impressive winners in their own opener against the US but, hampered by injuries, could not maintain their form and with Ghana scoring twice in the first half against the USA they were in the frame for second place as long as the Czechs did not beat Italy.
An early booking for Michael Essien rules him out of the next game but this did not seem to affect his Ghana team-mates unduly. They led when Haminu Draman took advantage of Claudio Reyna's stumble to score a fine opener. The lead was cancelled out by Clint Dempsey but a penalty on the stroke of half-time proved the game's defining moment.
Player of the Day
Stephen Appiah – the winning goal and a masterful display
Stephen Appiah tucked away the spot-kick and it was entirely fitting that he should have the honour of determining his team's fate because the Ghana captain was the conduit through which most of their attacks flowed.
Meanwhile in Hamburg, Italy were constructing the victory that helped them get over the disappointment of their draw with the US last time. They lost Alessandro Nesta early to injury but his replacement, the towering Marco Materazzi, headed them in front. Their cause was further helped by a red card shown to Czech midfielder Jan Polak. And with three minutes remaining substitute Filippo Inzaghi wrapped things up.
Goal of the Day
Ronaldo: Brazil 4-1
Not for the first time, the form and fighting weight of Ronaldo were a source of much debate as a FIFA World Cup got under way. With no goals and a couple of ineffective performances behind him the pressure was building going into this game.
The medics insist that their star forward is just about spot on for his height and certainly he looked a lot sharper tonight as Brazil composed some enchanting rythms to overturn Japan's surprise early goal. Ronaldo headed the equaliser to move past Pele as Brazil's leading scorer in FIFA World Cups. Then following a lovely one-two he made it 4-1 with deadly accuracy to draw level with Gerd Muller as the leading FIFA World Cup marksman of all time on 14.
There were other eye-catching goals in the second half from two of Carlos Alberto Parreira's five replacements - Juninho Pernambucano and Gilberto. Brazil's place in the next phase was already assured but Japan's defeat ensured there would be no repeat of 2002 when they reached the Round of 16. Which left second place in Group F to the winners of Croatia and Australia in Stuttgart.
Moment of the Day
The Socceroos move on
Australia had neither scored nor won a point in their only previous involvement in the FIFA World Cup. Their first-ever victory came ten days ago against Japan, however, and their draw with the Croatians ensured their qualification though it was a close-run thing.
The European side struck first through an expertly-struck Darijo Srna free-kick. Australia refused to wilt and Craig Moore's penalty had them back in second place. An error from goalkeeper Zeljko Kalac made it advantage Croatia once more before Kewell's volley ensured that the amber stuff would be flowing over breakfast Down Under.