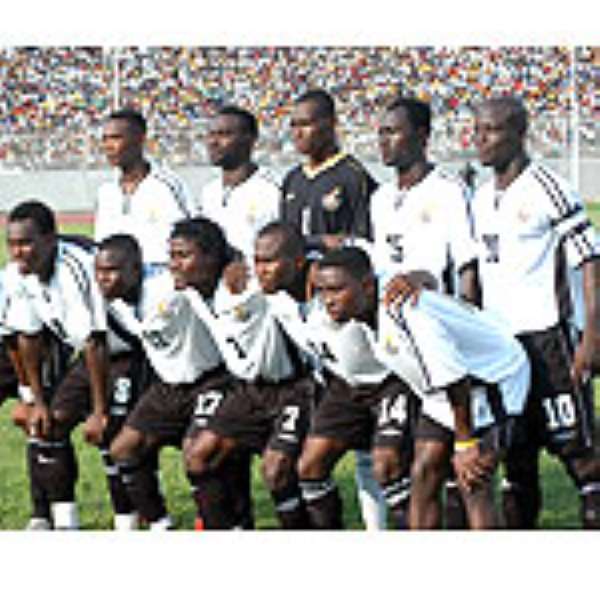 Ghana National Team, The Black Stars
The hype to have the Black Stars qualify to the next stage of the World Cup currently underway in Germany has escalated to an all time high ahead of the team's very important last Group E game scheduled for Nuremburg against the United States of America (USA) tomorrow.
The Stars enter the game, needing a win to tread the path the Taranga Lions of Senegal did as debutants in 2002.
And to ensure the players are motivated enough for the task ahead, the Ghana Football Association (GFA) has announced a hike in the bonuses should they record the desired victory against USA Team.
Fred Pappoe, Vice Chairman of the GFA told the GNA Sports in Nuremburg that the GFA had decided to give the boys the bonus they could not get from the Italy game should they win tomorrow.
This he said, was the association's way of encouraging the players to travel every length to ensure they pick one of the two slots reserved for the knock out stage of the month-long fiesta.
Though he preferred to be tight lipped on the package, he told the GNA Sports it was enough to further motivate the team to go for the kill. 'I can assure you it is simply enough to further motivate the boys who already understand the importance of a good result tomorrow.'
The Stars could meet Brazil if they progress to the next stage of the competition as runners up and not as group leaders. The Ghanaians, who caused the biggest upset of the tournament last Saturday with a 2-0 victory over the Czech Republic, ranked second in the world, left their base in Wurzburg for Nuremburg today believing the task is surmountable.
The players are aware of the physical nature of the Americans and the importance of the result to the continent and have resolved to die for the maximum points.
Ghana starts as favourite after their splendid performance against the Czechs, though the team will be without Asamoah Gyan and exceptional Sulley Ali Muntari, both scorers in the match against the Czechs.