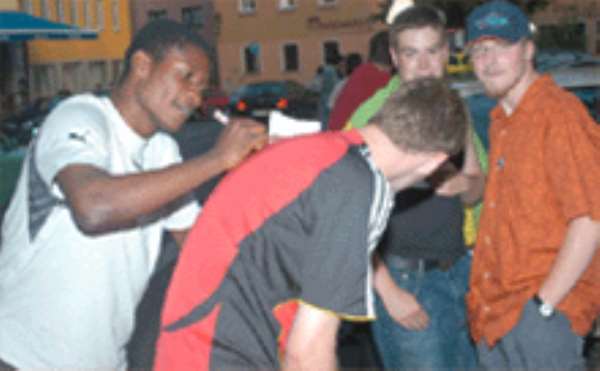 he wine-growing hub of Wurzburg stands at the start of Germany's famous 'Romantic Road' and its citizens have certainly taken Ghana to their hearts at the FIFA World Cup.
Wurzburg, at the midway point between Germany 2006 venues Frankfurt and Nuremburg, has been host to the Ghanaian team during the finals and the city is proud to have the Africans staying with them on the banks of the River Main.
The day after Ghana's 2-0 victory over the Czech Republic, the Black Stars were given a rousing reception at Wurzburg's free music festival and one local, Isabel Fraas, said: "Of course we still support our own country Germany but everyone here has spontaneously become a Ghana fan too."
In common with all German villages, towns and cities, Wurzburg is dancing to the beat of the tournament, with practically every bar and restaurant tuned in to the FIFA World Cup on brand new television sets bought specially for the big occasion.
Winemaker Klaus Czenkowski runs the charming Vier Jahreszetien (Four Seasons) beer garden in the shadow of the Stift Haug church in Wurzburg and he said: "I got the TV for behind the bar two weeks ago because I'm always working and I don't like to miss the World Cup."
He was happily spending his 42nd birthday serving customers on a sleepy sunny afternoon catching Brazil play Australia, while Ghana – 'the Brazilians of Africa' – were also watching avidly at the team hotel just up the road.
Klaus, who is clearly more at home in a bar than a football dugout, joked: "I think Ghana are doing so well because they are drinking Wurzburg's beer and wine – it's much better here!"
Ghana's coach Ratomir Dujkovic will obviously not be entertaining such suggestions, but he has certainly appreciated the warmth and generosity of spirit which his team have received in Wurzburg.
He said: "We are at home in this city. All the people are friendly and they have received us as a part of their community."
Midfielder Asamoah Gyan, who scored Ghana's first ever goal in the FIFA World Cup, added: "I like the people because they are very social and every time they meet us they make us feel welcome. It's a good city and we are very happy to be here."
Wurzburg will be getting behind their new local heroes again today when Ghana play the USA in their decisive Group E match and the city's Lord Mayor Dr Pia Beckmann said: "Our citizens are happy to host Ghana. Walking through the streets you can see it and you can feel it."
Dr Beckmann will be at the USA match and she added: "It's like a final and we will all have our fingers crossed for our team. It seems the longer Ghana stay in Wurzburg, the more successful they become!"
— FIFA