President Kufour backs Stars to shine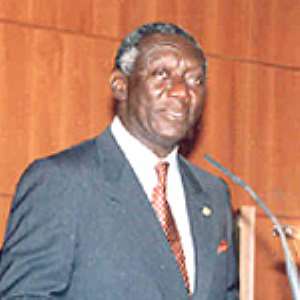 H.E. John Agyekum Kufuor, President of the Republic of Ghana
President of the Republic of Ghana, H.E. John Agyekum Kufuor has conveyed his best wishes and that of the entire Nation of Ghana to the Black Stars as they meet their USA counterparts in their last group match in Nuremberg tomorrow.
In a goodwill message to the team this afternoon, President Kufuor said the Black Stars have already done the Nation proud by their qualification to the World Football Tournament and also by their splendid performances so far which have been widely acknowledged by the entire world.
He said whichever way the game goes, the Black Stars have already made an invaluable contribution to Ghana's effort at standing out as a recognized and respected sovereign Nation in the comity of nations.
"Nevertheless I have no doubt that you are capable and will cross this last group hurdle into the next stage of the competition to make Ghana and Africa proud," President Kufuor added.
"I pray to God that He will give you the energy and strategy to accomplish that which he predestined you and our dear Nation to achieve before the beginning of time," the President concluded.