Albert Commey Sides With Decision By Gov't To Extend Ban On Football Activities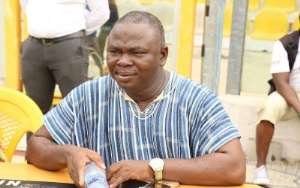 Albert Commey
Albert Commey, the Chief Executive Officer (CEO) of Techiman Eleven Wonders is siding with the decision by the government to extend the ban on football activities in the country in the midst of the Coronavirus (Covid-19) crisis.
The government in March put a ban on all public gatherings including sporting activities as a precautionary measure against the spread of the deadly Covid-19 disease.
In an address to the nation on Sunday where H.E Nana Addo announced gradual plans to lift the ban on public gatherings, he indicated that football activities remain banned for now.
Speaking to Happy FM today, football administrator Albert Commey has indicated that the decision must be accepted in good faith.
"Coronavirus is a very dangerous pandemic and you can't blame President Akufo-Addo for the measures put in place because he is the one who is briefed from all the regions on what is really happening. So you have no choice than to accept it whether you like it or not", he said.
The Techiman Eleven Wonders CEO added, "As football people, our wish is to restart the season as soon as possible to offset some of the financial burdens as a result of this health crisis but God knows best and we should all play our role in helping to curtail the spread of the virus".
Meanwhile, the Ghana Football Association (GFA) is expected to decide the fate of the 2019/2020 football season at the end of June.