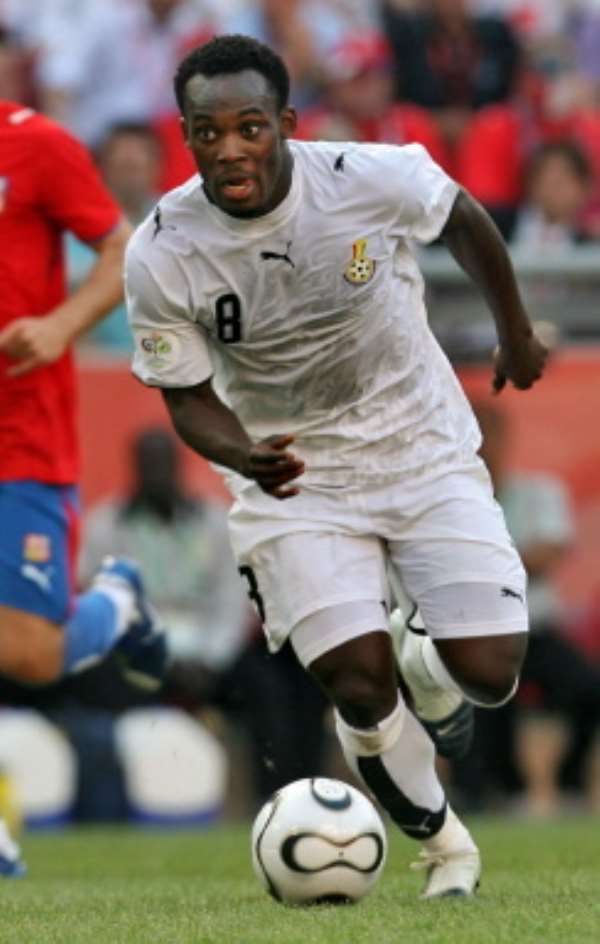 Michael Essien
USA coach Bruce Arena has pinpointed Michael Essien as the main danger to his side's hopes of beating Ghana and potentially reaching the second round.
The Chelsea midfielder was in outstanding form in the Black Stars' 2-0 win over the Czech Republic and Arena sees denying him control of the midfield as key to the 2002 quarter-finalists' chances of advancing.
"Essien is one of the top players in this tournament," said Arena. "He not only organized their attack, he played well on defence.
"He's a player who is brilliant. We can't let him do what he wants for 90 minutes or we're going to lose."
Chelsea paid 38 million Euros, the largest transfer fee for any African player, to bring Essien from French champion Lyon. Essien responded by helping the London club capture a second consecutive English Premier League crown.
Essien has the ability to orchestrate the backline and serve as a creative force in attack, impressing US counterpart Landon Donovan.
"Essien is dynamic. He is the modern two-way player. He plays tough defence and he scores a lot of goals," Donovan said.
"He's going to hurt you if you're not aware of where he is all the time. So we're going to be aware."
While Ghana and the US squad have never clashed in a full international, they did meet in the match for third place in the 1999 FIFA U-17 World Championship, when defensive co-ordinator Essien helped Ghana get the best of Donovan's US side to win bronze.
Asked if he recalled Essien from the match, Donovan admitted, "No, I don't. But you can say I did."
Donovan might soon remember Essien as the man who sparked an African nation's side to a FIFA World Cup™ dream triumph over a team from one of the wealthiest and most powerful countries on the planet.
Just ask Czech goalkeeper Peter Cech, who saw his own country's title hopes imperiled by his Chelsea teammate.
"Essien showed what a great player he is," Cech said.
Essien himself knows that victory over the Americans in the Group E showdown would send the tournament debutantes into the round of 16, possibly against reigning champion Brazil.
"It would be hard, but we are prepared for it," Essien said. "We're not afraid to meet the Brazilians. We are ready to play anyone. First we have to deal with the USA. They play good football and they will be tough."
"We will go for a win against the US team. And our chances are good I think."