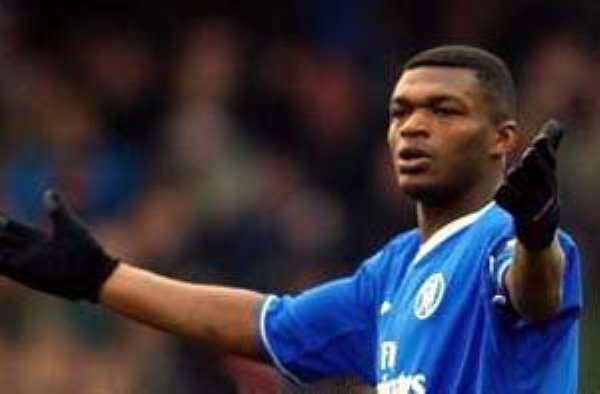 Marcel Desailly in Action
There's no denying African players are superstars at some of the world's biggest clubs - Samuel Eto'o at Barcelona, Michael Essien and Didier Drogba at Chelsea, and Kolo Toure at Arsenal for example.
In fact, rarely have there been so many big African names playing the game. Sadly, that's just not translating into World Cup form and results... Ghana permitting.
Having been born in Ghana, I still have strong ties to the country. I felt I did them proud during my career and now they are doing me proud.
They produced one of the great performances of this tournament against the Czech Republic and I can't wait to see them again.
Sadly, on Monday, Togo became the latest side from the continent to bow out of the tournament following their 2-0 defeat to Switzerland.
Already Ivory Coast are out, while I think Angola are going the same way too.
It's a shame as I've been impressed with the way both teams have played - Angola have looked a good collective unit, while the Ivory Coast have played some lovely football.
The problem is that they were too reactive. They didn't play from the outset against Argentina and Holland - they waited until they conceded goals before getting into both games.
But what's so frustrating watching from the sidelines is that they could have done so much more... particularly if they'd been in another group. Honestly, I think they could have lit up the World Cup had they been in any other group and had time to settle.
African teams always tend to rely on their physicality in the early games - especially as their preparation doesn't always look quite right - and then let their natural game shines through in the knock-out stages.
But at this rate, it's very possible no African team will reach that stage, which will be very bad news with Africa hosting the next World Cup.
Apart from potential problems with preparation, it's difficult to say if there are generic problems for African football.
For one, I find African sides are strong mentally and physically but sometimes if they achieve something too soon they just lose energy and efficiency, and then almost switch off.
Most African nations have top coaches with top-level experience, as well as European superstar players. And digging deeper, it's there - Europe - where the problem really lies.
Africa has some great academies producing some World Cup talent. Ghana, for example, won the under-17s World Cup.
But then come the scouts - normally from eastern Europe waving money around and young kids are snapped up and sent away as soon as they show a glimmer of talent.
These kids of, say, 16 years old, suddenly find themselves in this environment they don't know - it's a different atmosphere, the weather's cold, they're away from their family and they lose the capacity to be good players and excel in the future.
I think in the long-term this really changes African teams as a whole and I believe countries need to hold on to their players for as long as possible.
If you keep the players for longer, they get a better idea of what it's like to play like a Nigerian, a Ghanaian or whatever. Those years give you the base that's so very important later on when representing your country at senior level.
Things must start from Africa and these formation centres and academies need to be patient to improve the future of African football. Then they can go to other countries.
As a collective, I can't honestly say African footballing countries have made a step forward since the 1998 World Cup really. And it worries me they're not moving forward.
We'd be lying to ourselves to say things have improved but it has to improve before South Africa 2010 when all eyes will be on Africa.
And that change has to start with the academies, and as quickly as possible.