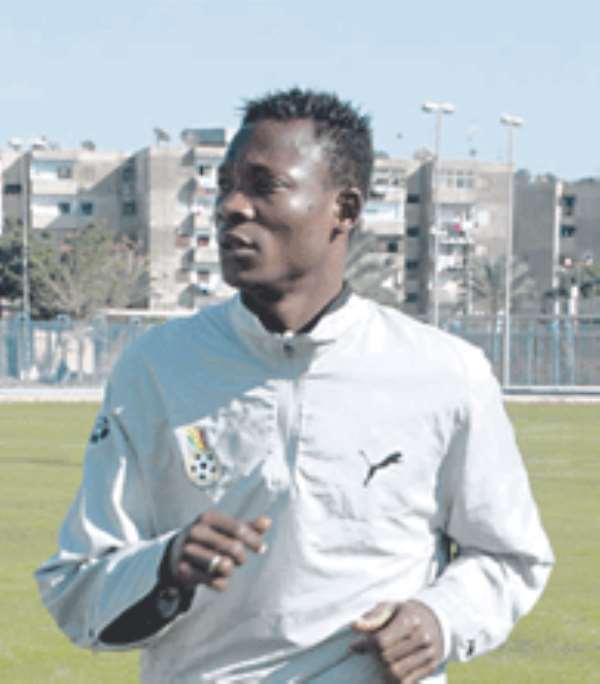 When Ghana scores a goal in Thursday's crucial game against the USA in Nuremberg, the unusual celebration with an Israeli flag by defender John Paintsil will not be seen.
This is because the player has regretted doing that twice in last Saturday's 2-0 win over the Czech Republic and for which he had attracted international condemnation.
"It will not happen again. I am extremely sorry for that incident. I was unaware of the political implications until my attention was drawn to it", the player explained apologetically through GFA spokesman, Randy Abbey, at a press conference in Wurzburg yesterday.
According to Abbey, the action was borne out of naiveity. "It came from a player who hardly understands the geo-politics of the world and we promise it will never happen again".
The FA spokesman took the opportunity to disabuse the minds of the international media about any position taken by Ghana either for or against both Israel and the Arab world.
"We are not into politics. We are here to play football, and the incident therefore cannot be deliberate but unfortunate," Abbey stressed.
Paintsil, who ceaselessly waved a small flag or handkerchief in Israeli colours each time Ghana scored a goal last Saturday, told the press he was doing that for fun and to win the attention of some Israeli friends and fans of his at the stadium and in Israel.
But the incident, innocuous as it appeared to Paintsil, is believed to have attracted the fury of the Arab world after satellite cameras picked and relayed it across the world.
Paintsil, who celebrated his 25th birthday two days before the victorious match against the Czechs, plies his professional trade in Israel with Hapoel Tel Aviv after transferring from another Israeli club, Maccabi Tel Aviv.