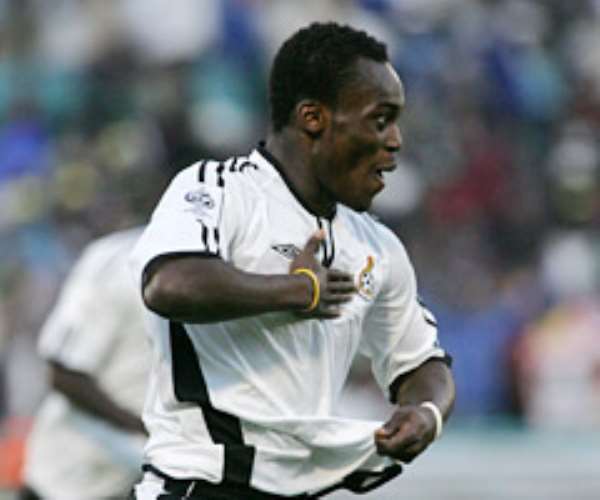 59 - Gyan gets onto Amoah's flick on and his cross is almost inch perfect for Essien but Thomas Ujfalusi just gets his head to it to flick it away.
57 - Essien almost releases Muntari, but Cech is there first. At the other end, Nedved is crowded out. This Stajner chap is causing some problems for Ghana down the right wing, however. He wins a free kick in a dangerous position but it is sent harmlessly high and wide.
55 - Jiri Stajner, of Galatassaray in Turkey, replaces Poborsky. Ghana are playing so well, Gyan in particular but they really need a second. Stajner almost makes an immediate impact, crossing for Plasil, who blasts the ball over the bar from inside the box.
51 - Gyan bursts away and cuts inside firing in a shot that Cech has to fist away for a corner. Brilliant play from the striker who plays for Modena in Serie B in Italy.
49 - Boateng is lucky to win a free kick as he needlessly gives the ball away. Not sure why Dujkovic needed to change anything frankly. Lokvenc is booked for a late tackle on Illiasu Shilla.
47 - Nedved heads into the back of the net, but is ruled offside. On the replays that was close. Ghana breathe again!
46 - The second half gets underway in Cologne.
Two substitutions at half time, one by either side. Ghana have brought Derek Boateng on for Otto Addo, and the Czech Republic have taken captain Thomas Galasek off and brought on Jan Polak.
While we're waiting for the second half here, it's important to note that the Czech Republic are the second ranked team in the world, according to Fifa. Ghana are ranked 48th in the world. Never mind that these rankings are misleading at the best of times, this would be a fantastic result for Ghana should they pull off a win. COME ON THE BLACK STARS!
And that is half time. Ghana have a precious lead, and it could be greater, they have been brilliant in this half. Don't go away!
45 - Addo almost sets up Essien but his shot is blocked and scrambled clear.
44 - Nedved does well to release Grygera down the right. His cross is met by Thomas Rosicky, but not cleanly and it goes wide.
40 - Gyan does well to set up Appiah who fires just wide. Great stuff from Ghana, but you feel they need a second here.
37 - Essien is booked for a late tackle on Nedved. But then he nutmegs the same player and starts a lovely move spoiled only by a weak cross from John Pantsil.
35 - Kingston flaps at a cross from Grygera and all mayhem breaks loose in the Ghana area, but somehow they clear the ball.
32 - Appiah puts Gyan through again, but this time he shoots straight at Cech. What a fantastic chance for Ghana to double their lead.
31 - At the other end, Gyan's pass finds Matthew Amoah in space inside the penalty area but he miscontrols, and then fires well over.
30 - Former Manchester United winger Karel Poborsky, who seems to have been around forever, latches onto a Pavel nedved pass and fires just wide.
28 - Muntari bends a shot wide. The Czechs win a free kick on the edge of the box at the other end. But Ghana keep it out, though Gyan rather daftly thumps the ball downfield, with not a Ghanaian player in sight.
26 - Essien's free kick is flicked on by Otto Addo, and cleared behind for a corner.
23 - Appiah releases Sulley Muntari, who runs at the Czech defence, but fires wide. Amoah wanted a pass there and he could have been right.
22 - Nedved's free kick is frankly awful and the ball trickles wide. The Czechs are struggling without Jan Koller, their giant striker.
20 - Otto Addo is yellow carded for a foul on his opposite no 20, Jaroslav Plasil. That was harsh to say the least.
17 - A fabulous tackle from Habib Mohamed, who plays in Ghana for King Faisal Babes, on Zdenek Grygera. Well in son!
15 - Appiah is allowed to run at the Czech defence and fires a shot that fizzes just wide.
13 - Otto Addo heads over the bar. He plays his club football here in Germany for Mainz 05.
12 - Sloppy from Ghana as Rosicky is allowed to run at their defence, he lays the ball off to Nedved, but his shot is easily saved by Kingston.
9 - Free kick to Ghana as Gyan is charged in the back. But Appiah floats the ball into Cech's arms.
8 - There's a drum beat rumbling in the corner of the stadium where the Ghana fans are. Long may it continue!
6 - That was a splendid goal from Ghana, Appiah's pass was quality, as was Gyan's chest control and finish.
4 - Nedved gets to the byline but his cross is headed away by Mensah. Jankulovski then fires wide.
2 - GOAL! Czech Republic 0 Ghana 1. Amazing start! Czech 'keeper Petr Cech fists away the corner but Appiah returns the ball to Asamoah Gyan, who controls well and fires home.
1 - Argentinian referee Horacio Elizondo gets the game off and running. Ghana force a corner immediately.
5.59pm - The Ghanaians get into the team huddle now so familiar at so many sporting matches. Can they pull off a shock here?
5.58pm - The well-sung national anthems are over and it's time for the action to begin.
5.53pm - The teams come out onto the pitch here at Cologne Stadium to a huge roar, and we prepare for the national anthems.
5.50pm - It's another packed World Cup stadium as the teams prepare to come out onto the pitch. The Czech fans break into some disastrous sounding country song. Another point of interest for Africa, Jerome Damon of South Africa is the 4th official here.
5.40pm - It's another lovely day in Germany here, but it's pouring on African teams at the moment. If none of the African sides make the last 16, it will be the worst performance by Africa at a World Cup since 1978, and a serious step backwards for the continent. A Ghana victory this eveing would cheer us all up, but they are up against a tough, tough Czech outfit.
TEAM NEWS
Czech Republic coach Karol Bruckner is forced to make his one change to the side that beat the USA 3-0. Striker Jan Koller is out with a hamstring injury, and is replaced by Vratislav Lokvenc. Milan Baros, meanwhile, remains sidelined with injury.
Ghana coach Ratomir Dujkovic makes three surprise changes to the side that faced Italy. Out go defenders Emmanuel Pappoe and Samuel Kuffour and in come Ghanaian based Iliasu Shilla and Habib Mohamed. Midfielder Eric Addo, meanwhile, is replaced by Otto Addo.
Hello and welcome to MTNfootball.com's live coverage of this 2006 Fifa World Cup finals Group E clash between the Czech Republic and Ghana. Ghana desperately need three points, as, indeed, does Africa. Can the Black Stars do it?