Essien calls for more striking potency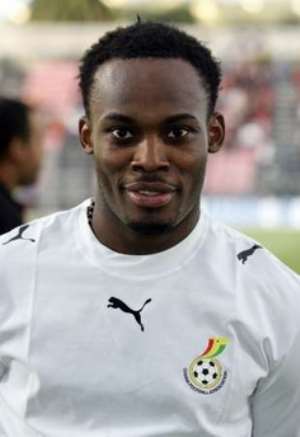 Essien has charged the team's strikers to be sharp upfront in Ghana's upcoming games
Ghana midfielder, Michael Essien has charged the team's strikers to be sharp upfront in Ghana's upcoming games against the Czech Republic and the U.S.
Ghana lost her opening Group E game 2-0 to Italy in Hannover Monday evening.
The Black Stars dominated possession for long periods of the second half, driven by a Michael Essien, Sulley Muntari and captain Stephen Appiah.
But the team's striking duo of Asamoah Gyan and Matthew Amoah failed to find the back of the Italian net.
Essien said the Black Stars would focus on finding more potency in front of goal in the build-up to the Czech game.
"We need to sharpen up a little bit up front and that's what we will work on in training in the next few days," he said.
"We looked strong tonight. We could have lost or won, but that's football. It didn't quite come through for us."
Sulley Muntari who enjoyed a quite game also said he felt Brazilian referee Carlos Simon could have granted at least one of two penalty appeals while the game was still at 1-0 in the second half.
"We had two chances for a penalty. One could have been a penalty, because he (Italy's Daniele de Rossi) pushed him (Asamoah Gyan) in the box. But the referee was right there so we can't say anything," he told Reuters.
"The Czech Republic play very good football, which is our game too. If things go our way, I'm sure we can win."
Ghana play the group leaders, Czech Republic on Saturday in Cologne while the United States take on Italy.