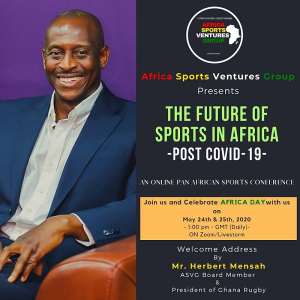 Africa Sports Ventures Group (ASVG) and UNESCO bring you an Online Sports Conference on May 24th and 25th 2020 at 1:00 PM GMT on the FUTURE OF SPORTS IN AFRICA - POST COVID-19.
The virtual event which is to celebrate Africa Day on May 25 will feature distinguished sports personalities such as Mr Herbert Mensah, President of the Ghana Rugby Union and Board Member of the African Sports Ventures Group and the Minister of Sports for Nigeria, Hon. Sunday Dare.
Mr Leslie Koroma, CEO of the African Sports Ventures Group said Africa must not wait, but rather take initiatives that can save the sporting world.
He noted that the Covid-19 has affected every sector of the economy and it is prudent that Africans dialogue to share ideas to plan for a better future.
The Online Sports Conference can be monitored on various social media channels like Zoom, Livestorm and later on Facebook, Twitter, Instagram and WhatsApp.
About the Africa Sports Ventures Group
Africa Sports Ventures Group is a For-profit Limited Liability Sports Solutions, Services and Business Corporation whose key purpose is to fully invest its earnings back into the sports industry of Africa in various formats that range from funding to sponsorship or any bespoke solution that will meet the needs of its partners and clients.
Africa Sports Ventures Group through its Solutions and Services Sectors will establish partnerships with every and any sports programs, private and public to help them build capacity so as to succeed in their efforts to build and create a sustainable environment for their programs to succeed.
The Company through its business ventures will provide a reliable Sponsorship and Funding environment for its clients and partners and any organization engaged in valid and sustainable sports event organizing and programs to carry out their mandate.
Interested participants can sign up at www.africasvg.com