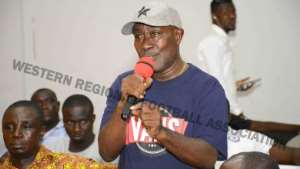 Jojo Duncan
Owner and president of Proud United, Jojo Duncan is challenging the Ghana Football Association (GFA) to come out with a reason why the Division One League (DOL) should be played by 18 clubs.
It can be recalled that the Ghana FA in a communique last week announced that its Executive Council has taken a decision to form a 5-member committee towards reducing the number of participating clubs in the DOL from 48 to 18.
According to the association, the move is in line with Article 81(6) of the GFA statutes which state that "The number of delegates representing the Division One League shall be reduced to 18 (down from the current 48) at the latest by the end of the second football season following the adoption of these Statues."
Speaking to Skyy FM on the imminent shrinking of the size of the Division One League, Jojo Duncan has accused the Ghana FA of trying to copy blindly from South Africa.
"South Africa is different from Ghana in every aspect so we cannot go and copy exactly what they do. We copy anyhow and want to always import intelligence from everywhere.
According to the Proud United owner, there is a reason the Division One League is played by 48 clubs and the GFA must defend why the change is necessary.
"There is a reason we moved to a 48 team league. The GFA should give tangible reasons why we should clear off 30 DOL clubs", Jojo Duncan indicated.