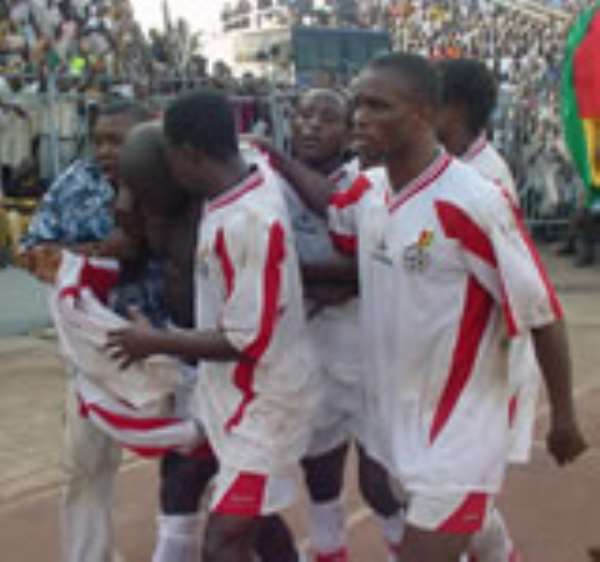 The team left their Wolfsburg camp for the match venue, Hannover, on Sunday and is now raring to go.
The Stars go into this game with huge expectations to overturn the fortunes of Africa after the continent's torch bearer, the Ivory Coast and Angola suffered defeats in their opening games.
Ivory Coast were beaten 2-1 by Argentina and Angola fell by 1-0 to former colonial master, Portugal.
Ahead of tonight's clash, the Azzuri camp has been rocked by disconcerting injuries to defender Gianluca Zambrotta, Alessandro Nesta and Francesco Totti.
The likely absence of these stalwarts has been interpreted as a blessing in disguise for Ghana.
Yet, Ghana Football Association president, Kwesi Nyantakyi, insists the Stars will thrive on their own merit.
Surprisingly though, there seems to have been an improvement in the injury situation in the Azzuri camp.
Italy coach Marcello Lippi has announced that playmaker Francesco Totti will play in today's World Cup opener against Ghana.
Totti, who recently recovered from a serious leg injury, has shown a vast improvement during this week's training.
Lippi says Totti has grown in confidence and will surely play against Ghana though he may not play the whole game.
Like Ghanaian coach Ratomir Dujkovic, Lippi admits he knows who will take to the pitch for the Group E clash, but will not announce it until just before the game.
Now, apart from the usual fans who will be cheering them in Hanover, the Black Stars will enjoy tremendous support from personnel of their major sponsors at this World Cup.
Headline sponsor, Goldfields Ghana Limited has its team in Germany to see to any outstanding need of the team.
Also expected to be in the stands for today's game is a ten-member team of key distributors of the Stars' official beverage sponsor, Guinness Ghana Breweries Limited.
The ten key distributors sponsored by GGBL left Accra with the company's Sales Director, Mr Nicholas Brooks and George Andah, Head of Marketing.