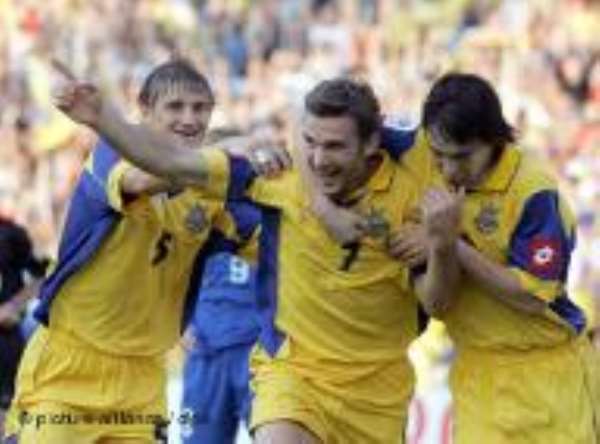 Ukraine is hoping for a successful stint at the World Cup even though star striker Andrei Shevchenko is still recovering from an injury. DW-WORLD.DE spoke with national coach Oleg Blokhin about the country's chances.
Appointed in 2003 as coach of the Ukrainian national team, Oleg Blokhin is a World Cup legend himself. The Ukrainian represented the Soviet Union in the World Cup finals in 1982 and 1986. He is regarded as Soviet soccer's best player ever.
DW-WORLD.DE: Ukraine managed to qualify for the World Cup for the first time. What was the key to your success?
Oleg Blokhin: Our single-mindedness and confidence were decisive. When the World Cup qualification rounds first began, no one believed that we would make it, in particular against strong teams such as European champion Greece as well as Denmark and Turkey. But I still managed to convince my boys that we were up to the challenge.
Is the World Cup frenzy palpable in Ukraine?
Just like everywhere else in the world, you have been able to feel the World Cup fever in Ukraine for the past half year. You notice it particularly with the growing number of journalists who want to interview me or the national players. But we could completely focus on the World Cup only after the Ukrainian national league championships were over on May 14. The national team lost a week of preparation due to that. We could have really used that week for a few players to relax fully before we began with the World Cup training.
What's the atmosphere like within the team? Do you think all that excitement can be damaging?
We're prepared to perform well and we understand how important the World Cup is for the image of our country as well for every individual player. I notice that our players are slightly excited, but it's important that we keep together. The excitement shouldn't affect our performance; it's a normal condition for every player before each game. If the player doesn't feel any excitement, it means that he's achieved everything and can end his career.
Which game in the preliminary round do you consider to be the most important?
The game against Spain will be important because it's the first one. It will strongly determine the further constellation in our group. But the two other games are equally important; that's why we'll have to give every game our best. There are no "games to fill the gap" in a World Cup and no weak opponents.
Who's the most dangerous opponent in Group H? And why?
Spain is one of the favorites of the tournament, and that's why we're preparing thoroughly for this game. But I consider another team to be the most dangerous opponent and that's Tunisia. African teams are famous for springing surprises. I think a team that's coached by Roger Lemerre is capable of surprises during the World Cup 2006.
Do you also reckon with stiff competition from Saudi Arabia?
Saudi Arabia had more time to prepare, and that does play a big role. I think we do have to take this team seriously; it certainly won't let itself be just a whipping boy.
What is the main strength of the Ukrainian team?
Our strength lies in our team spirit.
And what are your weaknesses?
They include personnel problems as well as injuries that have plagued us during our entire preparation phase. Until now we haven't played any test games in the combination that I'd like to see on the pitch. Andrei Shevchenko, Sergei Rebrov as well as Oleg Gusev have only trained separately from the rest of the team until now. Our most important man in the defense line-up, Sergei Fiodorov, won't be there at all due to an injury. Four other players had to take part in the junior European Championships in Portugal until June 4 and are completely exhausted. I can't rely on them 100 percent.
Which teams do you think have the best chances of making it to the finals?
Brazil, Italy and Germany. Germany's playing on home turf. We have a saying: even the walls help you at home. In addition, it could very well be that the referees are more partial towards the Germans.
Many experts say the success of the Ukrainian team depends on whether Andrei Shevchenko is fit. Is he the only key player in the team?
It's true that Shevchenko does lead the team. But we'll be in good form independent of whether he'll be fit after his last injury and whether he's in good shape or not. Our performance isn't only based on his dominating role though his talent, and charisma is really important to us and unpleasant to the opponents.
What goals do you have at the World Cup?
Our first goal is to reach the round of 18. If we manage that, then we can identify further goals.

Tatiana Petrenko interviewed Oleg Blokhin (sp)