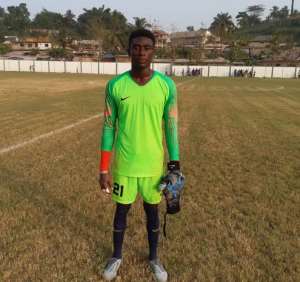 While the fate of the 2019/2020 football season remains uncertain, WAFA goalkeeper Sabi Acquah Ferdinand says it will be better for the Ghana Premier League to continue.
Football in the West African country has been suspended for the past 2 months because of the Coronavirus (Covid-19) crisis.
Currently, the Ghana Football Association (GFA) is in talks with the government and health experts as they look forward to making a definite decision on the fate of the season next month.
As the wait persists, goalkeeper Sabi Acquah Ferdinand says the Ghana Premier League must continue to ensure the investments made by clubs will not go waste.
"We have played 15 matches the league. Clubs have spent a lot of money so if we say we are going to start over it means the club will have to incur additional costs", the 23-year-old WAFA shot-stopper told Akonoba FM.
He added, "We have not played any league for the last 2 years. So if we restart it means players will need to start all over. We are all growing so I think it will be better for the league to continue instead".
Prior to the suspension of the Ghana Premier League season, the WAFA goalie had made 6 appearances. He conceded 3 goals and kept 4 clean sheets in the process.