Godwin Attram Hopes His Academy Produces Top Players For Black Stars Soon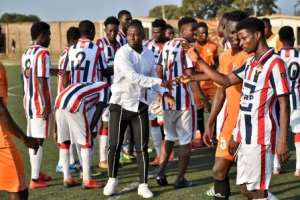 Former Ghana U-17 captain, Godwin Attram has indicated that he hopes to see his Attram De Visser Soccer Academy produce top players for the Black Stars in the future.
The academy which was founded in 2010 by the Ghanaian and Piet de Visser is primarily bent on creating future opportunities for underprivileged children in Africa and particularly Ghana.
Speaking to Joy FM today on his dream for the academy based in Accra, Godwin Attram has revealed that he wants to see some of his players wearing the senior national team jersey in the future.
"The dream of my academy is to produce players for the Black Stars in the future", the former Liberty Professionals coach said.
In the midst of the Coronavirus (Covid-19) crisis, Godwin Attram further opened up on steps he has taken to protect players of the Attram De Visser Soccer Academy as he describes them as his investments.
"I quarantine all my boys because they are my investment. I decided to let the U12 and U14 go home to their parents and let the bigger guys stay in the academy", the former PSV attacker noted on the Sports Link program.