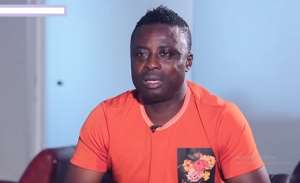 Charles Asampong Taylor is still bemoaning the failure of Asante Kotoko to win the CAF Confederation Cup when they lost the final to archrivals Hearts of Oak in 2005.
He says winning Africa's second-tier continental competition would have been a befitting legacy for a club he had adored from infancy.
Taylor, who featured against his former club in the two-leg final, blamed Kotoko's German coach, Hans-Dieter Schmidt, for virtually handing the trophy to the Phobians on a silver platter.
"We lost the trophy from the bench due to his [Schmidt] technical and tactical bankruptcy. To me, it was one of the worst misfortunes that happened in my playing career and I still rue that lost opportunity," a disappointed Taylor told the Daily Graphic.
After holding Hearts to a 1-1 draw in the first leg at the Accra Sports Stadium, Taylor put Kotoko ahead with a 53rd-minute goal in the return leg match in Kumasi, but Lawrence Adjah Tetteh fetched a late equaliser for the Phobians to throw the clash into a tie-breaking penalty shootout after extra time.
Hearts secured an 8-7 victory to claim the maiden Confederation Cup in Kotoko's own backyard. It was a big heartbreak for Taylor, having previously won two continental trophies with the Phobians before making a controversial transfer in 2003.
Accusation against Schmidt
"I can say confidently that it was Schmidt who won the Confederation Cup for Hearts in Kumasi on a silver platter. The match was lost from the bench," Taylor stressed.
Explaining what transpired during the final, Taylor — who was substituted later in the match — said Adjah Tetteh was handed a defensive role to closely mark him during the period he was on the field, while defenders such as Dan Quaye and Amankwah Mireku never crossed the centre line into the Kotoko half.
He said he was confident if he had remained on the field there was no way Hearts could have scored the equalising goal, let alone win in Kumasi.
"After I was pulled out, the Hearts defenders, had the liberty to surge forward. They all surged instead of sitting deep in defence. and when they earned a corner kick, Adjah Tetteh was free to score from the resultant kick.
"As a coach, you should always be tactical in your approach because a match could be won or lost depending on a particular player," Taylor said.
"That explains why a good player is allowed in a match even if he is performing below average. Coaches keep such players because they know the player can turn things around at the least opportunity and that their absence give more room for opponents to operate."
The player said a day after the match, the German coach called on him to apologise for wrongly substituting him.
"He [Coach Schmidt] told me he didn't know why he did what he did but since he was the coach and was responsible for everything on the field, I told him not to worry about it.
"But deep down my heart, I was very disappointed for not winning such a trophy with Kotoko to leave a legacy with the club I had adored from infancy," he admitted.