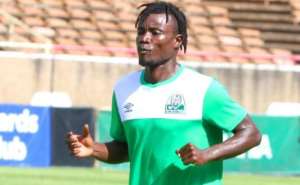 Former Kumasi Asante Kotoko midfielder, Jackson Owusu is in an unpleasant situation in Kenya after opening up on how is surviving by eating a single meal every day.
The midfielder signed for Kenyan giants Gor Mahia in January where he inked up with former Reds head coach and English tactician Steve Polack.
In the midst of the Coronavirus (Covid-19) crisis in the country which has led to the cancelation of the 2019/2020 football season, it appears the financial effect on Gor Mahia has been extended onto its players.
The club is owing the Jimlizer Hotel in Buruburu a cash amount of Sh600,000 which is equivalent to GH¢300,000. The hotel where Jackson Owusu is lodging has in line with the debt been forced to deny the player his usual 3 square meal per day.
Sharing his ordeal to Nairobi News, the midfielder said, "I survive many a times by only eating one meal in a day and it has to be given out after the attendant has received the go-ahead from the manager. Some fans brought me food on Wednesday and I am really grateful for their kind gesture".
He further revealed that due to his current situation in Kenya, his parents are now forced to send him money from Ghana.
"My parents are poor and fully depend on me and they live in Kumasi many kilometers away from Accra. But I have been forced to reach out to them and sometimes they have been forced to travel to town and send me something little. You also know that here at the club we have also not been paid and I can't assist them", Jackson Owusu noted.