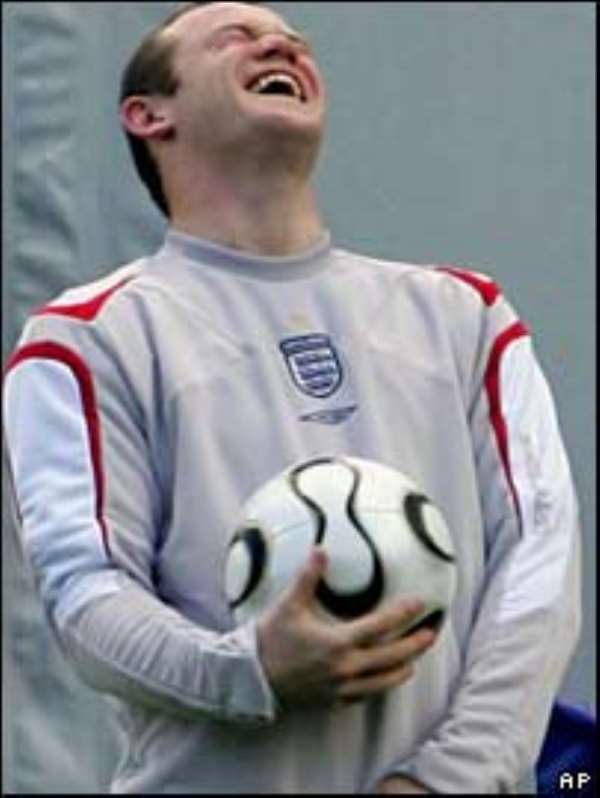 Wayne Rooney's return to rejoin England's World Cup squad in Germany is the perfect lift before the serious business begins against Paraguay on Saturday.
Indeed, the news was greeted with the sort of euphoria that suggested Rooney was actually bringing the trophy back on the plane to Baden-Baden with him.
Rooney's inclusion in the World Cup squad is a massive break for coach Sven-Goran Eriksson, but is still only another step on a difficult road to recovery for the country's greatest talent.
Now a new debate will start.
Rooney is fit but is he match fit? When will be ready to take part in England's World Cup campaign? Is there a risk of bringing him back too soon, so prodigious is his talent?
But to be around this England squad is to witness the importance they place on the mercurial talents of Manchester United's 20-year-old.
It is a remarkable tribute to his ability that his very presence, in whatever capacity, lifts spirits.
Chelsea pair John Terry and Frank Lampard have won back-to-back Premiership titles, honours Rooney can only dream about in his fledgling career.
And yet there is total respect and admiration in their voices when they discuss Rooney, and this is reflected by the rest of the squad.
They know Rooney represents that flash of star quality that can win games, the stroke of genius that can win World Cups.
For Eriksson, however, the tough decisions now begin because he must judge the timing of Rooney's return to perfection, otherwise the feel-good factor engendered by the positive results from his scan will be wasted.
If England start their campaign well, Eriksson can afford to bide his time and keep his powder dry until Rooney is well down the road with his rehabilitation.
If results are poor, the temptation to play his trump card, even a high-risk one, may prove too tempting to resist.
This is the delicate balancing act Eriksson must now perform - and one upon which England's World Cup hopes may rest.
Rooney himself must also fight his almost irresistible urge to play football before he is ready, no matter what his physical condition.
He is important to England, but not so important that their genuine chances of World Cup triumph can be sacrificed for his desire to play a part.
These are the crucial calls Eriksson and his backroom staff, in tandem with Rooney, must make in the days ahead.
Get it right and England can cement their status as serious World Cup contenders. Get it wrong and the inquests will be long and hard.
For now, though, if England were searching for a morale-boost to lift an already buoyant squad, the return of Rooney to their World Cup hideaway fits the bill perfectly.