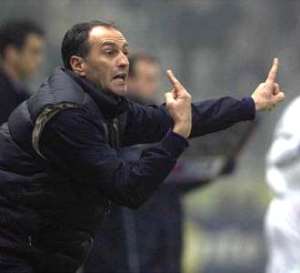 A World Cup title can make a coach a legend. A loss can put him out of a job. That's life at football's top level.
At this year's World Cup, there are several men looking for their place in history, including Luiz Felipe Scolari, Guus Hiddink, Sven-Goran Eriksson, Henri Michel, Juergen Klinsmann, Marco van Basten and Oleh Blokhin.
Just about all the others will be hoping to achieve something special by springing upsets at soccer's biggest event.
Scolari, the coach of Portugal, is looking to become the third coach to win the World Cup twice, but the first to do it with two nations.
"I have a shot at that. Let's see how things go and whether I deserve it," said Scolari, who led his native Brazil to its fifth title in South Korea and Japan four years ago.
Vittorio Pozzo and Vicente Italo Feola have also won two titles. Pozzo coached Italy to titles in 1934 and '38, while Feola led Brazil to back-to-back titles in 1958 and '62.
Portugal, which reached the final at the 2004 European Championship at home, does have a chance to win its first world title. The team is led by Luis Figo, Cristiano Ronaldo, Deco and Pauleta, and plays in a relatively easy group with Mexico, Iran and Angola.
Hiddink has never won a World Cup, but he led the Netherlands to the semi-finals in 1998, and then took South Korea to the last four in 2002.
The Dutchman is now coaching Australia, a team few give a chance to make it out of a group that includes Brazil, Croatia and Japan.
"We are happy to have qualified, but we are not here to make up the numbers, and want to spring a surprise," Hiddink said hopefully.
Michel will try to equal Hiddink's past success by taking Cote d'Ivoire to the semifinals. The Frenchman reached the last four at the 1986 World Cup with France.
But drawn into the toughest group along with Argentina, the Netherlands and Serbia-Montenegro, Michel's job won't be easy despite the attacking talents of Didier Drogba.
Klinsmann, Van Basten and Blokhin are trying to join the ranks of former star players who have won the title as a coach.
Mario Zagallo and Franz Beckenbauer are the only men to have won the World Cup as players and coaches.
Van Basten, who coaches the Netherlands, has never won the title, but he played for the Dutch when the team won the 1988 European Championship. His team will be tested early in its difficult group.
"If you start out with a tough group, you immediately know what you are worth," Van Basten said. "We know it isn't going to be an easy job."
Klinsmann helped West Germany win its third World Cup title in 1990, and he'll be coaching the hosts this time.
His two-year contract is due to end after the World Cup, and anything short of a spot in the final is likely to keep him from being offered an extension. But that doesn't seem to bother him.
"If I am not there, someone else will be," Klinsmann said. "But the federation has to have a philosophy. It has to have a line to be followed."
Germany will open the tournament on June 9 against Costa Rica. The three-time champions later play Poland and Ecuador in Group A.
Blokhin played for the Soviet Union, and now lead's Ukraine and star striker Andriy Shevchenko. The former Soviet republic is making its debut at this year's tournament and is grouped with Spain, Tunisia and Saudi Arabia.
Roger Lemerre has won European titles on two continents, leading France to the 2000 European Championship and Tunisia to the 2004 African Cup of Nations.
The Frenchman will be trying to add a world title to his resume by coaching Tunisia at the World Cup.
Eriksson, the first foreigner to coach England, is one of the few men at the World Cup that doesn't have to worry about job security when the tournament is over. He already knows he's leaving.
The Swede has been guiding England for five years and led the team to the quarterfinals at the last World Cup and the 2004 European Championship.
But sensationalist coverage in the British tabloids, which exposed Eriksson's romantic affairs and tricked him into talking to an undercover reporter posing as an Arab sheik, hastened his early departure. He will be replaced by Steve McClaren.
"Sometimes I get fed up reading about my private life, what I did, what I said, and I think people in general feel that way," Eriksson said earlier this year. "We should talk about football, but unfortunately that's difficult in this country."
Everyone will be talking about football — soccer — through the July 9 final in Berlin. Will they be talking about a legendary coach, too? —AP