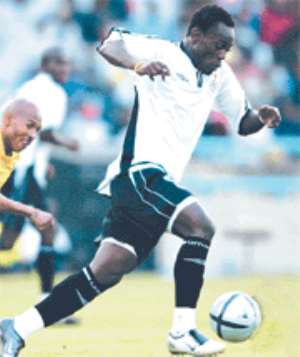 Black Stars' midfield powerhouse, Michael Essien, has declared he is "100 per cent" fit and ready to give of his best at the World Cup in Germany.
The player whose loyalty to the national cause has been questioned after his notable absence from the African Cup of Nations tourney, sounded a warning to Ghana's group opponents to be on their guard because he was "ready to explode" at the tourney.
Stars captain Stephen Appiah made an even more significant declaration that should be music to Ghanaian ears, stating in an interview with the Graphic Sports that the team is not going to Germany just to enjoy the moment, but aim to go past the group stage into the knockout phase.
Essien, with his latest toe injury setback behind him, told the Graphic Sports at their training camp at the exclusive Champneys Springs at Leicester that despite being one of the team's big name stars, he was very relaxed and not being weighed down by the burden of expectation.
"Everybody is looking up to me and Stephen [Appiah] and we are going to do our best and play the best we can," said the Chelsea star, adding that the midfield duo are relaxed and under no pressure.
"There is no pressure on us at all because we have not been there before, and have nothing to lose at the World Cup. So far our performance has been good and if we keep it up we can cause a few surprises."
Like Essien, Jamaica's coach, Wendell Downswell, believes that the Stars would not be bogged down by unreasonably high expectation of Ghanaians and it could be to their advantage at Germany.
"Ghana could be a Cinderella team in Germany, one that could come up with surprises because the team does not have to deal with high expectation and pressure," said Coach Downswell, who advised the team to "maintain constructive structures in their play more consistently".
With improved performances in the build-up to the World Cup there was optimism in the team's camp ahead of their final international friendly with South Korea in Glasgow on Sunday.
That feeling of hope, rooted in two impressive showings against Turkey and Jamaica, and strong camaraderie in camp, runs deep in the team and no one exudes more confidence than Appiah, who interrupted Essien and declared, "we are going there [Germany] to do well, particularly with the quality of players we have."
Ghana's 'Captain Fantastic' rubbished claims by critics that the team lacks ambition and would only make the numbers.
"Our objective is to reach the second round and that means we must win a match and at least get a draw, and we are working hard at it," he said.
"We are growing in confidence and that is very good for us because we want to cause surprises, we don't fear any team because football is not about big names. We are ready for Italy, ready for the Czech Republic and certainly ready for USA."
For the Fenerbahce midfielder who spent his best years in Italy playing for such clubs as Udinese, AC Parma, Brescia and Juventus, he can't wait to lead Ghana against Italy in Germany.
Two years ago at the Athens Olympics, Appiah scored a stunning goal against the Italians in a 1-1 group game, but this time he hopes Ghana could have the last laugh if the teams preparations go right, take their chances and avoid mistakes against the opportunistic Italians.
Appiah has never lacked in confidence and inspiration, just as he put up a leadership-by-example performance against Jamaica last week Monday, scoring two goals, albeit aided by deflections.
He provided similar inspiration when Ghana beat South Korea 3-1 in their final international friendly in Glasgow last Sunday.