Essien entertains for Ghana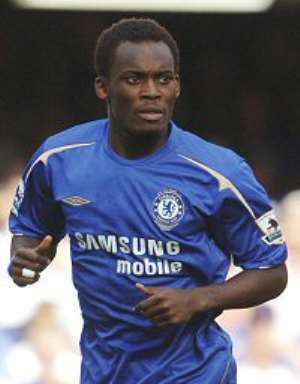 The former Rangers manager Dick Advocaat endured a disappointing return to Scotland yesterday as his South Korea side were overpowered and overawed by Ghana, whose potent combination of muscularity and flair found its embodiment in Michael Essien.
The Chelsea midfielder started slowly but was easily the most accomplished player on the field before the end, breaking up attacks and instigating them with equal vigour and intelligence. He, along with Stephen Appiah and Sulley Muntari, could well form one of the most formidable midfield units at the World Cup.
They certainly provided sumptuous entertainment for the 10,000 crowd at Easter Road. The stadium was lit up by thousands of Korean fans wearing the red shirts of their heroes while the Ghanaian contingent contributed to the atmosphere with drums and whistles.
Both Essien and Manchester United's Park Ji-sung went close to scoring before Ghana moved in front after 37 minutes. Kim Jin-kyu inexplicably handled a cross from the impressive John Pantsil and Asamoah Gyan emphatically converted the resulting penalty.
Ghana's substitute goalkeeper, Sammy Adjei, showed why he is only the back-up just after half-time by flapping horribly at a speculative 25-yarder from Lee Eul-yong and succeeding only in pushing the ball into the roof of the net.
The match was pleasingly competitive, with Gyan doing enough to earn a caution for a lunge at Lee Ho, but Ghana's physical strength, as much as their undoubted skill, gave them the edge. Muntari nodded them back in front from a perfectly flighted free-kick in the 65th minute and Matthew Amoah and Essien both missed chances as the Koreans disintegrated.
It was left to Essien to round off the victory with a fine solo goal, seeing off two defenders before beating Lee Woon-jae at his near post with a low left-foot shot.
Advocaat, bullish as ever, refused to read too much into the result, claiming his team can reach the semi-finals in Germany.
"We could have played Jamaica instead but this match was more interesting for us than playing a weaker team we could have beaten easily," he said. "I believe we are capable of doing the same as the South Korea team at the last tournament."
South Korea (4-4-1-1)
Lee Woon-jae; Song Chong-gug, Kim Young-chul , Kim Jin-kyu (Kim Sang-sik, 54), Lee Young-pyo ; Lee Chun-soo, Lee Ho , Lee Eul-yong (Kim Nam-il, 81), Park Chu-young (Seol Ki-hyeon, 81); Park Ji-sung; Ahn Jung-hwan (Cho Jae-chin, 46).
Subs not used
Kim Dong-jin, Choi Jin-cheul , Kim Do-heon, Baek Ji-hoon, Chung Kyung-ho, Kim Yong-dae , Kim Young-kwang, Cho Won-hee .
Ghana (4-1-3-2)
Kingson (Adjei, h-t); Pantsil, Mensah, Alhassan, Pappoe; Addo; Appiah, Essien, Muntari; Gyan, Amoah (Pimpong, 81). Subs not used
Sarpei, Kuffour, Boateng, Tachie-Mensah, Mohammed, Quaye, Owu, Addo, Ahmed, Draman.
Referee D McDonald (Scot).