WE'RE GHANA REALLY MISS NOT BEING IN GERMANY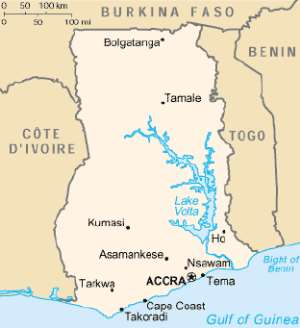 South Korea 1-3 Ghana
THE World Cup came to Scotland yesterday and proved two things beyond a shadow of a doubt.
One, that we will really, really miss not being there when it all starts in Germany on Friday.
And secondly, Walter Smith has some job on his hands to build a side which could compete against even the unfancied teams.
Neither Ghana nor South Korea are going to win the World Cup, that's for sure.
But these two teams, who played their last warm-up game at Easter Road, reminded the Scots among the healthy crowd that our national side is some way off being where we want to be.
The manner of friendlies is such that they rarely, if ever, give you an accurate impression of the players involved.
However, the truth is that both these sides would beat even an improved Scotland. Still, that's the aim for Smith.
Ghana are bigger, stronger, faster and, well, just better than our players.
They played one-twos in midfield with ease and Chelsea's Michael Essien was a stand-out, although even he was overshadowed by No.10 Stephen Appiah. Watch out for this guy over the coming weeks.
The Africans will do well to get out of a group which includes Italy, the Czech Republic and the USA but it's far from outwith the bounds of possibility that they could get second place.
The South Koreans were, on this evidence, much weaker. An ageing France side, Switzerland and minnows Togo make up a group Dick Advocaat's side could get out of but it's unlikely there will be a semi-final appearance this time as there was four years ago.
Yet they still they looked a better side than Scotland. Quick passing, good use of set pieces and one or two who showed some skills but they lacked sharpness up front.
It was an enjoyable day but one question did arise from it all - when did so many Koreans move to Leith?
There were a few thousand, resplendent in their red shirts, in the Easter Road jungle.
They competed with the Ghanaians, who had roped in the Scots in the crowd, in a competition to decide who could make the most noise. It was friendly, musical and colourful - everything a football match should be.
The Scots in the crowd must have walked away from Easter Road wishing more than ever that their country was one of the 32 who had made it to Germany so we could have more parties just like this one.
On the field Ghana were as impressive as their supporters. Essien is a class act and carved out the first chance by himself after 16 minutes.
He turned past two defenders, skipped over another challenge on a run which deserved a goal but Lee Woon-Jae made a fine save.
Ghana's Sulley Muntari is a tricky customer and a lovely nutmeg of Chong Gug-Song gave him the chance to shoot, only for the ball to sail over.
The Koreans were at their best when they got the ball down and played their passing game.
This was where Ghana struggled a little and in 20 minutes a good move ended with Ho Lee having an effort on goal. The ball took a deflection and keeper Richard Kingson did well to change direction and save on his line.
Then, in 24 minutes, South Korea put together their best move of the match so far.
Lee Eul-Young fed Lee Pyo-Young on the left wing. He took on and beat Asamoah Gyan, got his cross over but Ty-Young headed just wide.
But the Ghana breakthrough came in 36 minutes.
A cross from John Pantsil should have been dealt with by Kim Jin-Kyu but when the defender tried to take the ball on his chest he succeeded only in handling it.
Referee Dougie MacDonald pointed to the spot and Gyan, who plays for Medina in Italy and is said to be the next big thing, sent a perfect penalty into the top left-hand corner.
But if that was perfect Ghana substitute keeper Sammy Adjei was less so five minutes after the break. There seemed little danger when South Korea won a free-kick 40 yards out. Lee Young-Ul rolled the ball to Lee Soo-Chun, who gave it back to him.
Young-Ul then tried his luck. His shot swerved but Adjei, who got his hand to the ball, should have saved but instead the ball ended up in the back of the net.
It was no real surprise when Ghana scored again in 64 minutes. Essien sent in a free kick, Muntari rose high and sent an unstoppable header in at the bottom corner.
And the best was saved until last. With 10 minutes to go, Essien played a one-two with the excellent Gyan before scoring from 10 yards.
South Korea boss Advocaat showed he had not changed since his spell in Scotland as Rangers boss.
He was out of his seat for most of the game, screaming at his players, with hapless right-back Pat Chu-Young the recipient of some amazing rants from the Dutchman.
If you closed your eyes, it could have been five years ago and Fernando Ricksen getting an earful.
'This was everything football should be about'