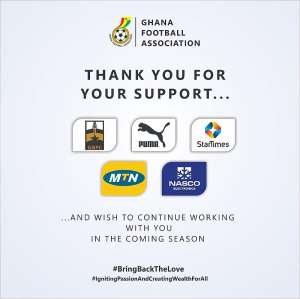 After announcing that the 2019/20 football season remain suspended, the Ghana Football Association (GFA) have thanked its sponsors.
The current season has been suspended indefinitely in the wake of the novel coronavirus.
The Ghana football season was halted March 16, 2020, after directives from the President's ban on all social gathering which includes football games.
Despite Confederations of African Football's communique to member associations to decide on the fate of their season before May 5, the Ghana FA has rather written to CAF on the basis of the countries situation amid coronavirus crisis.
The FA has pleaded with CAF to be given a two-week grace period to take a firm decision.
A release from the Ghana FA which stated with unmitigated certainty that the 2019-2020 football season remains on hold which further states that the Executive Council decided that the Association will continue to monitor the situation and would revisit it on June 30, 2020, after a careful assessment and evaluation of the issue and to take further decisions.
But an artwork from the football association has glowed claims of cancellation of the season.