Ogbojo Traditional Council to partner govt for devt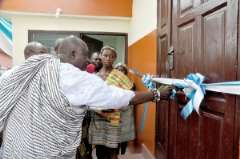 The Ogbojo Traditional Council has reiterated its commitment to partner the government to bring into fruition development projects that will raise the living standards of residents.

The Chief of Ogbojo, Nii Joseph Torgbor Obodai, explained that the government alone could not cater for all the development needs of Ghanaians and so the Ogbojo Traditional Council  would put in place measures to complement the efforts by the government.

He indicated that the spirit of self-help was at the highest point in the Ogbojo community, adding that with the right technical support from the government, the town would blossom. 

Nii Obodai was speaking at a ceremony to inaugurate a 24-seater water-closet toilet facility for the people of Ogbojo.

The Ogbojo Presby Basic School was also presented with 100 pieces of dual desks by the council to help solve the acute furniture problem facing the school due to an increase in enrolment.  

 
Interventions 
In his address, Nii Obodai said to complement the efforts of the government, the council had provided the Ogbojo Presby Basic School with electricity to assist the school to train students in information and communications technology (ICT).

Two Land Rover vehicles and temporary offices have also been provided for the police in the area to aid them in their daily activity of providing security for the people.

The headmistress of the Ogbojo Presby Basic School, Ms Bernice Ofori, in her address, said the toilet facility was timely, since similar facilities in the community had broken down, putting pressure on the one in the school.

She expressed her profound gratitude to the traditional council for the gesture and called on the community to take proper care of the facilities to ensure its long life span.