Energy Minister assures of uninterrupted electricity in 2014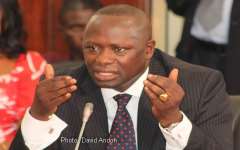 The Energy Minister Emmanuel Armah Kofi Boah has given the most resounding assurance yet of an uninterrupted electricity supply in the year 2014 and beyond.

Speaking on Joy FM and Multi TV's news analysis programme Newsfile, the minister said given the targets achieved so far it is most unlikely the most dreaded erratic power supply debacle, locally referred to as dumsor dumsor will return in the near future.

The whole country witnessed a severe drought in electricity supply early this year following the destruction of the West African Gas Pipeline.

After several months of postponement, the pipeline was repaired leading to flow of gas to power the thermal plants to generate more electricity.

The president on Friday commissioned the 400 megawatts Bui Hydroelectric Dam which has increased the country's generation capacity.

Energy Minister Kofi Boah said the country is currently generating 2800 megawatts of electricity, higher the annual 200 megawatts needed every year.

That should effectively end the erratic power supply in the country.

The minister said, if at all there are outages, it may be as a result of localized challenges which would need a quick fix.

He said the government's decision to ensure accountability by asking government institutions, educational institutions to pay for their own electricity consumption has paid of greatly because government no longer has to dole out large sums of money to pay these debts.

Kofi Boah said despite the successes chalked the ministry will not rest on its oars but stick to it targets of generating at least 300 megawatts of electricity every year.