SDF Skills and Technology launched in Accra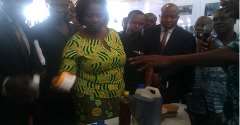 The Skills Development Fund technology fair has been launched at a colourful ceremony at the International Trade Fair Center, La in Accra.

The two day fair, which is being held under the auspices of the Skills Development Fund (SDF) will provide a platform to share the outcomes of its support to the private sector and promote dialogue between research and technology developers and industry as part of its strategy.

The Skills Development Fund is a competitive challenge fund addressing the skills and technology needs of business enterprises operating in both the formal and the informal sectors

It is supported by the Council for Technical and Vocational Education and Training (COTVET) under the Ministry of Education with funding from Danida and the World Bank.

The fair brings together participants from small, medium and larger scale businesses, research institutions, science and technology institutions, development partners and the media.

Speaking at the launch, project coordinator and fund manager, Matthew Dally said the fund will continue to provide support for small and medium enterprises to boost the economy.

He noted that with the private sector being the engine of growth of every economy, government will not relent on its effort in ensuring they are well equip both financiallly and technologically.

Matthew Dally disclosed that the skills development fund has since 2011 approved about GHC 39 million worth of grants to 193 Ghanaian firms in support of innovate skills and technology development initiatives in the private sector and promote dialogue between research and technology developers and industry.

He said special informational sessions on how to apply for SDF funding will be held at the fair to enable people correctly apply for the grant.

On her part, the Minister of Education, Professor Jane Naana Opoku-Agyemang appealed to graduates to start their own businesses regardless of how small they might be.

This, she said, would help to avert the high rate of unemployment among graduates in the country.

Prof. Naana Opoku-Agyemang therefore asked graduates to take advantage of the fund rather than focusing on white colour jobs.

Participating companies include Ghana Telecom University, Mushroom Growers Association, Progressive Electronic Technicians, Ghana Rice Inter Professional Body, Association of Road Contractors, Bee Keepers Association, Soap makers association among others.