GIHOC Distilleries (GDCL) Installs Modern Machines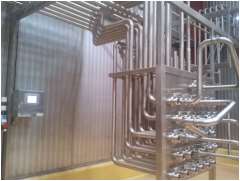 GIHOC Distilleries Company Limited, producers of alcoholic and non alcoholic drinks in Ghana is expanding and installing modern state of the arts equipments for the production of its products, In line with the International Standard Organisation (ISO) requirements.

The company is installing automatic bottle washing plant, modern product preparation, high capacity raw water storage facility capable of storing 250000 gallons of water, power distribution and standby generator to infuse efficiency of operations.

It is also installing automatic packaging lines together for Pet and Pouch (Tot) production.

The projects are expected to be completed next year productions is also expected to quadrupled to meet the demands of consumers and the international market and improve shareholders return.

The company is also expanding into the West African Sub-Region. And has registered three of its products with the Nigerian National Agency for Food and Drug Administration and Control (NAFDAC) and are now being marketed in Nigerian. It has also entered the Ivorian market.

The company has introduced the some of its popular alcoholic brands into new packaging – Pet Bottles (G-Pet) and Pouches (G-Tot).

Since the new Board of Directors assumed office, the company has paid dividend to Government of Ghana annually. Between the year 2010 and 2012, the company paid GHS 18.397 million as excise duty and VAT to the government. Corporate Tax paid also amounted to GHS 2.013 million over the same period. Projected Tax payable for the year 2013 is in the region of GHS 1.5 million.

In a report of the annual general meeting of the company, The Managing Director, Ms. Kay Kwao Simmonds, says performance in all indicators have been satisfactory in spite of some challenges in the financial year review which is in its third year of the five year strategic plan (5YSP).

She said profit before interest and Tax increased from GHS 3.113 million the previous year to GHS 3.760 million. Net profit for the year under review increased from GHS 2.222 million to GHS 2.245 million. Net profit in terms of turnover has however decreased from 8.55% to 6.28%.

She hoped that very soon the company would commission its new distillery with modern-state-of –the-arts production plant. Paving way for the company to take advantage to stay in competition and maintain its first place in the standards as well as its quality attested brands.

The Board Chairman of the Company, Dr. Kwame Asante was delighted that the year 2012 increased sales revenue in the midst of constraint in production capacity due to the ongoing expansion and modernization of the company.

He said the performance demonstrated the company's ability to deliver substantial value for the shareholders and the market, hoping to deliver substantial increases in production and profits when the modernization and expansion is completed.