Simply Dirty Corruption! World Bank Figures Reveal Grand Deception By Zeera & Co.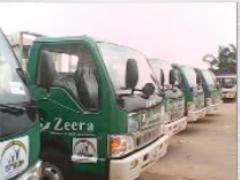 Ghanaians have received with shock and total disbelief recent news item to the effect that the youth in road maintenance module of the Ghana Youth Employment and Entrepreneurial Development Agency (GYEEDA) has covered One Hundred and Twenty Thousand (120,000) kilometers of roads across the country since January, 2013.

In September, 2010 the Government of Ghana under GYEEDA entered into a Public- Private Partnership Agreement with the Zeera Group of Companies with the Ministry of Roads and Highways as the supervising agency.

Under the arrangement, the Department of Urban Roads, the Department of Feeder Roads and the Ghana Highway Authority under the Ministry of Roads and Transport were to identify deplorable roads under their respective jurisdictions and allocate them to Zeera Group which in turn deployed people to work on such roads.

However, the recent staggering figure of 120,000 kilometers of road coverage across the country within the first quarter of 2013 has been received with mixed feelings, especially when Zeera Group has consistently complained of stiff competition from other private companies for contracts and the failure on the part of government to release funds on time to enable it function competitively.

Whiles it is so uncommon to drive on most streets within and without the capital without sighting countless potholes and, in some cases, mini pools the issue is further compounded by the fact that the 120,000 kilometers coverage recently cited by the National Coordinator of the program, Mr. Awal Mohammed, is far in excess of the entire country's road network.

The actual figure for Ghana, according to a 2010 World Bank Report, only amounts to some 109,515 kilometers. Thus, many are of the view that this latest gimmick is yet another grand collusion between GYEEDA and the Zeera Group, ably supported by some other state institutions, to charge the already overburdened Ghanaian taxpayer for some nonexistent projects.

The scenario, according to many, is reminiscent of the National Democratic Congress (N.D.C.) governments much touted elimination of schools under trees in the build up to the December, 2012 Presidential and Parliamentary elections.

It will be recalled that, in the run up to the last elections, the NDC government made so much noise of eliminating over 4000 schools under trees across the country. However, upon persistent calls from the public to make known where the schools could be found, government has till date been able to provide a list of some Six Hundred (600) schools, thus leaving some three thousand four hundred (3400) as outstanding.

What is most awful and striking about this is that the cost of the over three thousand four hundred (3400) phantom schools has been charged on the Ghanaian taxpayer.

With this latest twist, Ghanaians are waiting with bated breath to see what the response of President John Dramani Mahama's NDC administration would be.