Lambussie-Karni Re-Elects Retired Planning Officer As PM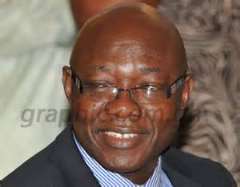 A SIXTY-six year-old retired Planning officer, Mr. Issaka Sagito, has been re-elected unopposed as the Presiding Member of the Lambussie-Kami District Assembly.

Mr. Sagito, the sole candidate, polled 31votes of the 35 assembly members who took part in the election supervised by Mr. Eric Gyamfi Boateng, the District Electoral officer.

The election, which took place during the first ordinary meeting of the assembly at Lambussie, was witnessed by heads of departments and traditional rulers including the Paramount Chief of Lambussie-Karni Traditional Area, Kuoro Salijn Issakah Du-Yakah.

In his acceptance speech, Mr. Sagito thanked the assembly members for the confidence reposed   in him for the second time and promised to work harder than before.

The retired planning officer, however, called for unity, respect and support from assembly members to enable them to achieve their collective objective for the development of the district.

The District Chief Executive, Mr. Clement B. Benin commended the assembly members for the show of unity and appealed to them to sustain that unity for the good of the assembly.

DCE Benin who touched  education, health, agriculture, security, water, waste management, roads and sanitation as well as revenue mobilization said 40% of the District Development Fund (DDF)  have been allocated to support the execution of projects  including teachers' quarters, and district library complex.

On water, Mr. Benin said the rehabilitation of 18 boreholes is on-going and appealed to members to ensure effective monitoring of beneficiary communities to ensure value for money and speedy completion of the projects.

In the area of energy, he said out of 30 communities which were approved 28 communities have been connected to the national grid while 2 communities are yet to be hooked.

He said feeder roads were also being improved upon across the district to facilitate the free movement of goods and services.

The Regional Minister, Dr. Ephraim Aver Nsoh urged the assembly members to be more innovative this year in their revenue mobilization and collection so that they can meet their revenue target.

Dr. Nsoh also appealed to the assembly members to educate the people on environmental degradation and urged traditional authorities to take necessary steps including enacting bye-laws to protect the environment.

The Minister expressed worry about education which he said, had been characterized by indiscipline, truancy, high drop-out rate amongst girls, poor staffing and poor teaching methods leading to massive failure of 74.5% in the 2012 BECE as major concerns in the area.

Meanwhile, the Paramount chief of Lambussie-Karni, Kuoro Salijn Issakah Du-Yakah has appealed to the Regional Minister to ensure the establishment of a police station in the area.

According to him, the district has no district police station.

The chief also complained of lack adequate accommodation for workers, making to shuttle between Nandom and Lambussie on daily basis.