Affidavit evidence is good for Ghana's election petition- Lawyer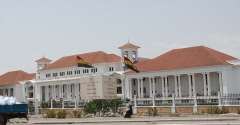 The decision by the Supreme Court to take evidence in the form of sworn affidavits from potential witnesses in the election petition case, has been applauded by legal experts.

They say the move will fast-track proceedings in court.

The Supreme Court on Tuesday narrowed to two issues of contention in the petition challenging the results of the 2012 presidential elections and has set April 16 as the date for the trial.

Presiding Judge, Justice William Atuguba has indicated oral evidence would be taken from potential witnesses, only based on "compelling reasons".

Legal practitioner Samson Lardy Ayenini explains, the court's decision has stopped efforts aimed at unnecessarily dragging the case.

Speaking on the AM Show on Multi TV, the former Joy News editor said the judges' decision to take sworn affidavit is in order.

"A lot of them intend to call so many witnesses, especially the NDC has given indication it wants to call such a huge number of witnesses.

"What you have to do is to come by affidavit evidence and by this instead of bringing the individuals physically into the court room and having them answer questions directly which could also further delay the process, we want you to let them write what they want to say in full and it will be sworn by officers of the court."

He said what is in the affidavit will be what they would have said if they were in court.

"I think it is a good process. It might shorten the process and get us through a speedy end of the outcome," he stated.

Meanwhile former MP for Adentan, Kojo Adu Asare says the trial on the election petition will be a wakeup call for the Electoral Commission to review its operations after the December 2012 polls.

He said having taken part in an election before, he is well aware of the many flaws in the system, adding, the EC requires a lot of overhaul.

He said Ghana will be the beneficiary after the petition.