NGOs Sensitized On Money Laundering And Terrorist Financing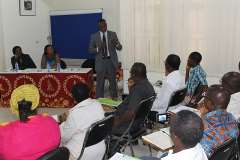 Money Laundering and Terrorist Financing (ML/TF) has gained popularity globally, as it is gradually gaining notoriety in the African region with activities of terrorist sects such as Harakat al Shaabab al Majuhideen, Al-QuedaMaghrebiIslamique, Boko Haram and recently Mali's Ansar Dine Islamist Group springing up.

The spate of such activities is on the ascendency. This has therefore called for immediate action on the part of civil societies to put measures in place and help curb the menace.

It is for this reason that the West Africa Civil Society Institute (WACSI) has organized a one-day workshop for Non-Governmental Organizations (NGOs) to sensitise them to the "new Anti-Money Laundering and Terrorism Act in Ghana".

Speaking on the subject 'Money Laundering', the Chief Executive Officer of the Financial Intelligence Centre (FIC), Mr. Samuel Thompson Essel, explained that money laundering is the process by which proceeds from criminal activity are disguised to conceal their illicit origin.

He continued that terrorist financing is where both legitimately acquired funds and or proceeds from illicit activities are used to finance the commission of terrorist acts or the production of weapons of mass destruction.

According to Mr. Essel, Ghana finds itself in the African region where terrorism and terrorist financing is gradually gaining notoriety, and by virtue of geographical proximity of some of the countries where terrorism is going on to Ghana, there has been increasing numbers of migrants into the country. This, he said, has made Ghana a focus of international attention in all respects including money laundering.

He stated that the Centre is determined to protect the Ghanaian economy from the scourge of Money Laundering and terrorist financing by taking out of the crime, while performing functions such as processing, analysing, disseminating and interpreting information disclosed to or obtained by the FIC.

The Centre, he said, also monitors and gives guidance to accountable institutions, supervisory bodies and other persons on the discharge of their duties and in compliance with the Act.

Mr. Essel revealed that research and empirical evidence have shown that NGOs or Faith Based Organizations are vulnerable to abuse by money launderers as well as terrorists for many reasons including their (NGOs) ability to enjoy public trust and access to considerable sources of funds.

He stated that NGOs are accountable institutions (AIs) within the meaning of section 21 and are mentioned specifically among the AIs in the First Schedule of the Anti- Money Laundering Act, 2008, (Act 749).

He maintained that the law imposes certain obligations on NGOs in the fight against ML/TF and Proliferation.

As part of their fight against ML/TF, Mr. Essel reiterated that NGOs are obligated to keep records, file suspicious transaction reports, formulate and implement internal rules, train staff (on ML/TF), and to observe the restrictions and instructions directed at individuals and entities designated as terrorist or terrorist organizations both domestically and internationally.

He admonished the NGOs to be mindful of "suspicious acts" for instance, money doubling in their accounts without their knowledge, and to report such operations to the authorities.

Making a presentation on the "role of NGOs under the Financial Action Task Force (FATF) 40 recommendations and Ghana's Anti-Terrorism legislation", an Advisor, US Treasury, Ms. MilimoMoyo, reiterated that the NGOs must be careful not to be used as conduits for terrorist attack and financing.

She said, as part of the recommendations, NGOs are obligated to disclose the source of large monies ranging between US$ 500,000 and US$ 300,000 to the FIC or the Bank of Ghana.

Ms. Moyo said terrorist financing should be considered as a predicate offence in the country and the Centre should be able to freeze the account in question.

She stated that a country may prevent its NGOs from being used as Terrorist Financing by improving international cooperation, outreach to the sector, and effective investigation.

The US Treasury Advisor emphasized on the recommendation 20 stating that "when you see something, say something" and cautioned the NGOs to be swift in reporting any suspicious deal to the FIC. "It should not be implied, but rather a mandatory action," she stressed.

The Executive Director of WACSI, Ms. Nana Afadzinu, said her outfit will organize more of such workshops to keep the civil societies (including NGOs) abreast with issues of ML/TF.

"We are putting measures in place to clamp down NGOs which may be encountering ML/TF and protect them, also because they are a vulnerable group," she said.