Haiflow SAL Trains Professionals To Align Business With Customer Needs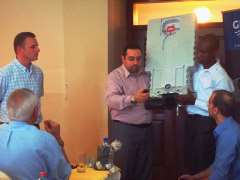 To fulfill the promise made last year at the grand opening of its ultra-modern showroom on the Spintex road, Haiflow SAL, a privately owned high quality sanitary ware distributing firm, held a one-day training seminar for its contractors, tillers and plumbers in Accra.

The training was aimed at educating the artisans to acquire the appropriate technical knowledge on how to install, repair and use their new products in accordance with international best practices.

Haiflow represents world famous brands such as Grohe, Villeroy and Boch, Pavigres, Tredex and Gardenia Orchedia.

Speaking at the training, Mr. Karim Ghazale, General Manager of Haiflow SAL, disclosed that, the training will offer a high level of pre and post-sale services, as well as technical support to customers in the West African market. "This training will be of much benefit to the end users of our products and also become very familiar with it, and at the long run benefit highly as partners".

Mr. Ghazale further stated that, to ensure the company's client service was performing at the highest levels while maintaining quality brand and standards, "we undertake continuous testing to improve our products." Mr. Ghazale stressed that this kind of training programs will create a friendly environment and partnership where all stakeholders will keep communicating to get the best.

"Haiflow SAL is a fashion leader when it comes to the latest innovative designs in our industry. We offer our clients a variety of products that cater not only to their individual needs, but also their budgets" he added.

Mohammed Akanbi, training and after sales coordinator of GROHE, West Africa, lauded the initiative of the company for the added value through processing of designs, purchasing, to the installation of products.

"Our company grows with its customers in mind, and this makes us one of the environmentally friendly company in sanitary wears, ceramic tile, bathroom accessories, shower enclosures, bathroom cabinetry and Jacuzzis through the designs of our product", he said.

Michel Accad, Regional trainer and after sales Manager of GROHE, Egypt said "As part of a large group of companies that specialize in the building materials market, we have the knowledge and expertise to serve the African Market. Our dedicated team of sales professionals is well trained in both the technical and design aspects of our industry which enables them to provide our clients with the quality customer service they deserve. Our exclusive programs offer our clients the ability to exceed their clients' expectations."

Participants of the training included construction professionals and representatives from various local and international construction firms across the country. They were taking through various installations, processes and usage of high quality GROHE products.