NDC AMSTERDAM BRANCH TO SCHOOL MPs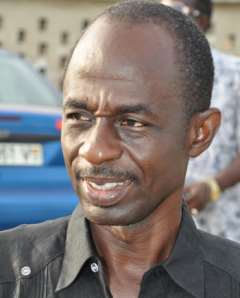 Ghanaians far and near have been asking themselves questions as to whether our Ghanaian leaders (governmental / religious / traditional / etc ) truly care about the people they supposedly lead, Ghana or themselves.

This came to light at a forum organized by Ghanaians in the Diaspora in conjunction with NDC Amsterdam Branch.

Speaking at the open forum, Mr. Fred Morgan (an Interim Executive) clearly indicated that it's truly a shame that people clothe themselves with Party ideologies and yet refrain from adhering to the same principles to which they subscribe to, this, he said was not fair to Ghanaians and to the tracks being laid for the development of our beloved country Ghana.

Ghanaians, he said, must change their mindset towards the development of our great nation, so that our children and grand-children can truly be proud of us all.

Mr Morgan went on to say that it is the responsibility of all Ghanaians to ensure that our actions and deeds is concerted to the betterment of the social fabric of our people. Ghana he said is the focal point of today's world economy , with multi-national companies looking for ways to plug into our economical frequency.

This places Ghana on the world stage and therefore we should all be proud to be Ghanaians and work as a team to ensure that we are not short- changed at any given time. He charged party (NDC) headquarters to do more in engaging with Ghanaians overseas.


In the open discussions that ensued, the following key points were highlighted:


Ghanaian Policy makers must get off their high horses and petty ego to ensure that they can work together as a team at all levels to enhance development.

Ghanaian media houses should be schooled in the art of concerted efforts towards development via the choice of language used on their airwaves.

Leaders my lead by example, rather than the WE and THEM syndrome that has plagued Ghanaians to this day.

Ghanaians by default share a unified desire to co-exist irrespective ethnic ties/lines.

Regulatory infrastructures already in place to check and balance "The Ghanaian" in all of us must be revisited, tweaked and properly implemented so that we can all proudly work as Ghanaians with a common goal – development.


Mr. Tony Brown who currently acts as the Public Relations Officer of the NDC Amsterdam Interim Executives, also stated that Ghanaians home and abroad have lost trust in their Leaders, this is partly due to the fact that leaders of the past have betrayed Ghanaians by coming into power or leadership roles only to romance their personal egos and ignore the plight of the same people that voted them into power, he went on to say that its his believe that the current NDC administration is going to change Ghana in a way that would amaze Ghanaians by and large, because the 'hardcore Ghanaian unpatriotic ways" would have to give way to a better and progressive collectivism that would lead Ghana solidly onto the path of development.

He is confident that the President John Mahama led administration can deliver on its promises should Ghanaians embrace the openminded approach NDC is taking to ensure that peace and stability is rewarded with development in the country.


The Panelists and audience made up of various Africans applauded and agreed with the Interim Chairman of the NDC Amsterdam branch, when he , Mr Dodoo, suggested that Ghana should look deeper into the idea of giving Members of Parliament a six months crush course on Leadership and Governance, which in his words ought to be Mandatory in order to secure a collective awareness to roles they are assuming once elected into office.

In his view, this would help some MP's truly understand and grasp the reality and expectation of the people they represent. He went on further to state that NDC Amsterdam branch is creating a working template, which he is hopeful government would adopt to lay down the ground rules of engagement for all public figures, since that is what is missing in our democracy .

Ghana , he said, can set the stage for other African countries to embrace this approach so as to bring on the added value that Africa as a continent can benefit from.

The better Ghana agenda would not be complete if the Education of our elected honorable men and women is not the primary concern of the government.

2012 was a year in Ghanaian political history that Education became the driving force of the electoral decision of the populace thanks to Nana Addo Akuffo of the NPP, just that the NPP jumped the gun by ignoring the fact that offering " free rotten tomatoes ' does not necessarily mean the soup would be delicious.

Therefore with all the stakeholders and partners both home and abroad ready to contribute their quota to our socio-economic development, Ghana should set the right expectation for its citizenry so that politicians can be held accountable to their actions/deeds.

The Interim Chairman of the branch did not mince his words at all when he said that the WE and THEM syndrome that has plagued the leadership parameters of governance is what is stalling development because some policy makers have become overly petty in their quest to romance their own egos with what he called political masturbation.

NDC and NPP should step up to the plate by setting the right expectation, and in so doing adhere to core principles of Transparency which would weed out corruption.


Finally Mr Adarkwah an executive member of the NDC Amsterdam branch was quick to denounce the NPP saga which is currently unfolding at the Supreme court, saying that NPP is contradicting itself on all fronts and if they had had a crush course on Leadership and Governance they would perhaps be singing a better tune than there are doing today.

He went to say that Ghanaians as a whole must shun away from wasting tax-payers money in court cases and instead use our tax-payers blood and sweat to enhance schools, roads, health infrastructure and create a social climate where everyone in Ghana can feel secured and proud to be a Ghanaian.

Its about time that Government starts to think out of the Ghanaian box to identify as well as create a solid partnership with Ghanaians around the world that continuously work in the global interest of our nation, because the lack of acknowledgement to the tremendous efforts by Ghanaian diasporans is what is creating the crack in the wall. We are all Ghanaians and should at all times want the best for our nation as a whole.

He concluded by saying that NDC Amsterdam branch is in negotiation with a reputable international University that is prepared to offer its courses on Leadership & Governance to eligible Ghanaians in leadership roles with a discount, and that government should be bold to open up that dialogue of educating MPs .

Aspiring Members of Parliament and current Members of Parliament in Ghana that are interested in looking at these programs/courses offered by the University should contact the NDC Amsterdam Branch via [email protected] with their enquiries. He urged all NDC branches outside of Ghana to also look to ways they too can contribute to the Better Ghana Agenda.



God bless Ghanaians, God bless Ghana, edey be K3K3!!